Our Mother's House
(1967)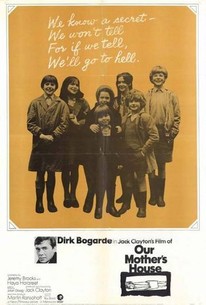 AUDIENCE SCORE
Critic Consensus: No consensus yet.
Our Mother's House Photos
Movie Info
In this film, Dirk Bogarde is a no-good rotter who returns to his family after several years' absence. What Bogarde doesn't know is that his wife had died some time ago. To avoid being sent to orphanages, his kids secretly buried their mother and went on about their business.
Critic Reviews for Our Mother's House
Audience Reviews for Our Mother's House
½
Complex and disturbing but very well made.
½
Six years after directing the brilliantly eerie "The Innocents" Jack Clayton directed the equally eerie "Our Mother's House". Seven children hide the death of their religious obsessed Mother and bury her in the garden in order not to be sent to the orphanage. For awhile they manage by themselves and go about their lives as if their Mother were still alive. They create a shrine for her in the back garden and everyday have "Mother Time" which consists of seances where it seems the mother talks to her children through one of the daughters. This changes when the children's father returns. For a short time a few of the children are convinced by him until secrets are revealed and we have a dramatic ending. The main stars of "Our Mother's House" are the excellent cast of children. These include a few familar faces, including Pamela Franklin from "The Innocents" and Mark Lester star of "Oliver", and a few not so familar. Each of the children have their own unique character traits which makes it even more special. The adult actors are also impressive. Dirk Bogarde does a brilliant job as their selfish Cockney father and Yootha Joyce, who is best known for UK sitcoms in the 1970's, is also great. You could dispute whether this is actually a horror film but it certainly is very creepy and atmospheric. The cineamatography and score only add to the uneasy feel. Finally I just want to say why is this not avaliable on DVD or VHS, it is simpling begging for a proper release! If you do have the time please vote for it to be released on the TCM site. A unique, creepy, dreadfully underated British classic. If you ever get the chance to see this rare gem then do.
Our Mother's House Quotes
There are no approved quotes yet for this movie.