Pacific Rim Uprising
(2018)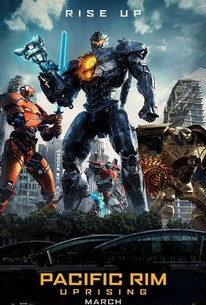 TOMATOMETER
AUDIENCE SCORE
Critic Consensus: Pacific Rim Uprising won't win any points for subtlety or originality, but it delivers enough of the rock 'em-sock 'em robots-vs.-kaiju thrills that fans of the original will be looking for.
Pacific Rim Uprising Videos
Pacific Rim Uprising Photos
Movie Info
John Boyega (Star Wars: The Force Awakens) stars as the rebellious Jake Pentecost, a once-promising Jaeger pilot whose legendary father gave his life to secure humanity's victory against the monstrous "Kaiju." Jake has since abandoned his training only to become caught up in a criminal underworld. But when an even more unstoppable threat is unleashed to tear through our cities and bring the world to its knees, he is given one last chance to live up to his father's legacy by his estranged sister, Mako Mori (Rinko Kikuchi)-who is leading a brave new generation of pilots that have grown up in the shadow of war. As they seek justice for the fallen, their only hope is to unite together in a global uprising against the forces of extinction. Jake is joined by gifted rival pilot Lambert (The Fate of the Furious' Scott Eastwood) and 15-year-old Jaeger hacker Amara (newcomer Cailee Spaeny), as the heroes of the PPDC become the only family he has left. Rising up to become the most powerful defense force to ever walk the earth, they will set course for a spectacular all-new adventure on a towering scale. Pacific Rim Uprising is directed by Steven S. DeKnight (Netflix's Daredevil, STARZ's Spartacus) and also stars Jing Tian, Burn Gorman, Adria Arjona and Charlie Day.
News & Interviews for Pacific Rim Uprising
Critic Reviews for Pacific Rim Uprising
Audience Reviews for Pacific Rim Uprising
Lots of big robots but not much else to keep you watching. the original was not that good and so this Is more of the same really. possible proof that not all films should get a sequel. and most likely we will get a third film too.
Ian Walker
Super Reviewer
The first Pacific Rim was a very divisive film. Sure, it had its fair share of fans, but critics and fans either had a blast with it or it just wasn't for them. For myself, I was on the former end of that argument. I really enjoyed watching the spectacle of the first movie. Even though it was flawed, it was all about caring of the characters and whether or not they lived or died. Some people found it to be hollow, but there are counter-arguments to make about that as well. That being said, there aren't many arguments that can save this sequel from being disliked. Pacific Rim: Uprising is the perfect example of a film that desperately relies on the spectacle and characters of its predecessor in order to impress. For all these aspects and more, here's why I think fans of the first and newcomers might as well stay away from this sequel. Pacific Rim: Uprising follows Jake Pentecost as he is thrust into the war he never thought he would join. Being the son of his fallen father who helped save the planet in the first film, that was the one connection that made this film lazy in my opinion. From the visual style to the one-dimensional characters, to the nearly non-existent chemistry between everyone, I found this film to be lackluster from start to finish. Audiences come to see these movies for the spectacle of monsters fighting robots, but when the majority of that fighting takes place in the final 30 minutes and you've bored your audience by that point, then there isn't much hope for an enjoyable experience. I'm usually the person who talks as highly as I possibly can about a movie, looking for positives where most people find negatives, but I'm finding it very difficult to defend this one. Without ruining it for those who wish to see it, there are returning characters from the first film who are completely wasted here and their character arcs are ridiculous and frankly too stupid to agree with. The entire time someone from the previous film was on-screen, I found myself wishing I was back in the theatre when the first film came out. Everyone from the new characters to the old characters was poorly executed here and I was more than disappointed by that. Yes, the final act does have some cool fight sequences, but I'm more just commending the filmmakers on a few cool action scenes rather than saying that I actually enjoyed them while watching. Yes, the effects are great, but I was bored by the time they showcased them. On top of that, the stakes are silly, due to how the Kaiju's make their return to Earth. Honestly, I found myself either wondering how much time was left or hoping for an exciting twist that would grab my attention, but none of that is present throughout this film. In the end, Pacific Rim: Uprising is everything that I didn't want from a sequel. Being the first feature film that Steven S. DeKnight has directed (having only worked on television beforehand), I went in with a little apprehension, to begin with, but his work on television or smaller films may suit him better. This movie is just about as generic as you can get. I would like to say that this film would make a good example of how visual effects look on a home television experience for a rental, but I still think the better recommendation for that would be the first film. Overall, I've seen far worse movies out there, but Pacific Rim: Uprising isn't anything worth talking about.
½
The original Pacific Rim brought out my inner child with its gee-whiz spectacle of giant robots fighting giant monsters, and under the artistic vision of Guillermo del Toro. I was eager for a sequel, as was my inner child. Thanks to China, a sequel was granted, though del Toro left to go win Best Director and Best Picture at the Oscars. The new director replacing del Toro, Steven S. DeKnight, came to fame on shows like Buffy the Vampire Slayer, Spartacus, and Netflix's Daredevil. DeKnight acquits himself well in a world of big-budgets and big worlds, and while Pacific Rim Uprising is definitely lesser than the original, it's still a whole lot of fun. John Boyega (The Last Jedi) leads the way as the son of Idris Elba's character. It's been ten years since the events of the first film and humanity is considering replacing Jaeger pilots with more cost-efficient drones. Then a rogue Jaeger starts attacking the remnants of the fleet, and Boyega and a scrappy pre-teen girl have to team up with a bunch of other Jaeger recruits to save the day. Where the first Pacific Rim rode the wave carefully to find a middle ground between cheese and awe, this time the movie swerves far more into cheese. Stuff gets silly, but if you can't abide a little silliness then what are you doing watching this movie? The mythology and world building deepen, building off the last film, and they even supply a motivation for the aliens. It does feel at times like a pilot for a TV series, Jaeger Academy, and oddly the plot seems to follow Independence Day 2, Iron Man 2, Ender's Game, and then ends right back with Independence Day 2's closing sales pitch for a sequel that was never destined to be. Boyega has a fine reserve of charm and much is asked of him since the remaining characters are pretty slight. The action takes place almost entirely in daylight, a positive change from the original. The monsters don't appear until the final act, which is not a positive change. It's fun, goofy, and entertaining in the way that Saturday morning cartoons of your youth were entertaining. Uprising probably won't be saved by China this time, but if you're a fan of the first I have to think you'll still enjoy the sequel. Nate's Grade: B-
Nate Zoebl
Super Reviewer
Pacific Rim Uprising Quotes
There are no approved quotes yet for this movie.