Pacific Rim Uprising
(2018)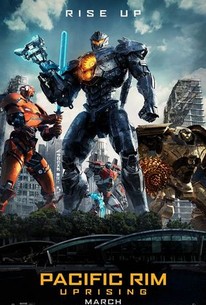 TOMATOMETER
AUDIENCE SCORE
Critic Consensus: Pacific Rim Uprising won't win any points for subtlety or originality, but it delivers enough of the rock 'em-sock 'em robots-vs.-kaiju thrills that fans of the original will be looking for.
Pacific Rim Uprising Videos
Pacific Rim Uprising Photos
Movie Info
John Boyega (Star Wars: The Force Awakens) stars as the rebellious Jake Pentecost, a once-promising Jaeger pilot whose legendary father gave his life to secure humanity's victory against the monstrous "Kaiju." Jake has since abandoned his training only to become caught up in a criminal underworld. But when an even more unstoppable threat is unleashed to tear through our cities and bring the world to its knees, he is given one last chance to live up to his father's legacy by his estranged sister, Mako Mori (Rinko Kikuchi)-who is leading a brave new generation of pilots that have grown up in the shadow of war. As they seek justice for the fallen, their only hope is to unite together in a global uprising against the forces of extinction. Jake is joined by gifted rival pilot Lambert (The Fate of the Furious' Scott Eastwood) and 15-year-old Jaeger hacker Amara (newcomer Cailee Spaeny), as the heroes of the PPDC become the only family he has left. Rising up to become the most powerful defense force to ever walk the earth, they will set course for a spectacular all-new adventure on a towering scale. Pacific Rim Uprising is directed by Steven S. DeKnight (Netflix's Daredevil, STARZ's Spartacus) and also stars Jing Tian, Burn Gorman, Adria Arjona and Charlie Day.
News & Interviews for Pacific Rim Uprising
Critic Reviews for Pacific Rim Uprising
Audience Reviews for Pacific Rim Uprising
Thrilling and action packed, Pacific Rim: Uprising delivers another round of rock 'em sock 'em robot fights. After ten years of inactivity at the dimensional gate the Jaeger program is decommissioned in favor of drones, but when the drones are hacked and turn against humanity the Jaegers are resurrected to combat this new threat. Unfortunately the plot seems forced and kind of formulaic; with a black sheep coming back into the fold and leading a bunch of new trainees to save the day. And the fights just aren't as fresh and exciting as they were in the first film. Still, there are some interesting new Jaeger designs and combat moves; especially when they team-up. However, the stakes just don't seem that dire and the characters aren't all that compelling. Yet, while it's not as good as the original, Pacific Rim: Uprising is still a fun and entertaining popcorn film.
Dann Michalski
Super Reviewer
½
This movie is fucking cancer. So why am I talking about Pacific Rim: Uprising - a movie that was panned, bombed, and the world forgot it even existed? Because you need to share my pain. If you saw the original Pacific Rim several years ago, then you might be aware that it was an attempt by Guillermo Del Toro to merge "giant robot" anime with live-action Kaiju movies and a VERY high dosage of Independence Day. It was moderately successful, and for the most part, pretty fun. It was perhaps one of Del Toro's weaker efforts, but that was done on purpose for mass appeal. He unfortunately, has little to do with Uprising (it's directed by...some guy), and IT SHOWS. The Independence Day angle may be tragically on point here, as Uprising also bears much in common with ID4: Resurgence. Both are terrible, bloated sequels to thematically similar movies, both have new characters no one cares about, both were supposed to make a cinematic universe and effectively doomed that same effort, and both bombed miserably and were already been forgotten by pop-culture a month after release. Ouch. Uprising is long, has yawn-inducing action scenes, terrible dialogue, a contrived plot that makes ZERO sense, and commits that most hated crime of horror movie sequels - returning beloved characters from the original only to kill them or turn them into forgettable villains. Oh, it panders to China the same way Trump panders to Putin's Russia. It's fucking embarrassing. In short, Pacific Rim: Uprising is one of the worst sequels ever made and an early contender for worst mainstream film of 2018. The cast is a joke and can't act their way out of a paper bag, with the exception of John Boyega. He does exactly what Michael Caine did in Jaws 4 - crack jokes both on set and on camera at the expense of the movie and cash that paycheck. And to be fair - he looks like he's enjoying himself more here than during his soul crushing slog in The Last Jedi. Don't see this. Don't rent it. Don't Netflix it. Send it back to the hellhole it came back from. Cancel the Apocalypse.
Joshua Sheetz
Super Reviewer
The first Pacific Rim was a very divisive film. Sure, it had its fair share of fans, but critics and fans either had a blast with it or it just wasn't for them. For myself, I was on the former end of that argument. I really enjoyed watching the spectacle of the first movie. Even though it was flawed, it was all about caring of the characters and whether or not they lived or died. Some people found it to be hollow, but there are counter-arguments to make about that as well. That being said, there aren't many arguments that can save this sequel from being disliked. Pacific Rim: Uprising is the perfect example of a film that desperately relies on the spectacle and characters of its predecessor in order to impress. For all these aspects and more, here's why I think fans of the first and newcomers might as well stay away from this sequel. Pacific Rim: Uprising follows Jake Pentecost as he is thrust into the war he never thought he would join. Being the son of his fallen father who helped save the planet in the first film, that was the one connection that made this film lazy in my opinion. From the visual style to the one-dimensional characters, to the nearly non-existent chemistry between everyone, I found this film to be lackluster from start to finish. Audiences come to see these movies for the spectacle of monsters fighting robots, but when the majority of that fighting takes place in the final 30 minutes and you've bored your audience by that point, then there isn't much hope for an enjoyable experience. I'm usually the person who talks as highly as I possibly can about a movie, looking for positives where most people find negatives, but I'm finding it very difficult to defend this one. Without ruining it for those who wish to see it, there are returning characters from the first film who are completely wasted here and their character arcs are ridiculous and frankly too stupid to agree with. The entire time someone from the previous film was on-screen, I found myself wishing I was back in the theatre when the first film came out. Everyone from the new characters to the old characters was poorly executed here and I was more than disappointed by that. Yes, the final act does have some cool fight sequences, but I'm more just commending the filmmakers on a few cool action scenes rather than saying that I actually enjoyed them while watching. Yes, the effects are great, but I was bored by the time they showcased them. On top of that, the stakes are silly, due to how the Kaiju's make their return to Earth. Honestly, I found myself either wondering how much time was left or hoping for an exciting twist that would grab my attention, but none of that is present throughout this film. In the end, Pacific Rim: Uprising is everything that I didn't want from a sequel. Being the first feature film that Steven S. DeKnight has directed (having only worked on television beforehand), I went in with a little apprehension, to begin with, but his work on television or smaller films may suit him better. This movie is just about as generic as you can get. I would like to say that this film would make a good example of how visual effects look on a home television experience for a rental, but I still think the better recommendation for that would be the first film. Overall, I've seen far worse movies out there, but Pacific Rim: Uprising isn't anything worth talking about.
Pacific Rim Uprising Quotes
There are no approved quotes yet for this movie.