Papadopoulos & Sons
(2012)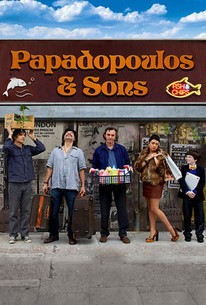 Papadopoulos & Sons Photos
Movie Info
Greek immigrant Harry Papadopoulos is a self-made millionaire with a lavish mansion house and extravagant lifestyle. But when the economic downturn hits, Harry suddenly loses everything. The one thing the bank cannot seize is the disused family fish and chip shop in London. Harry can't sell it without the consent of the co-owner - who happens to be his long-estranged brother Spiros. The only option is for Harry and his three children to move into the chippy itself - easier said than done, especially when a rival Turkish kebab shop owner is scrutinising their every move! But upon moving in, Harry finds that old memories are being stirred and, together with his brother, he decides to re-open the neglected chippy...
Rating:
NR
Genre:
, ,
Directed By:
Written By:
On DVD:
Runtime:
Studio:
Double M Films
Critic Reviews for Papadopoulos & Sons
Audience Reviews for Papadopoulos & Sons
Just saw this movie. Why didn't this get noticed more ! Stephen Dillane is fantastic ! A beautiful movie about jobs, money , love, and family. It's a comedy , drama, and a lesson to learn about where your priorities should matter the most !
jen sci
An enjoyable film, but not one that really leaves much of an impression. The highlight of the film is the view it takes of the immigrant experience in England, which it handles in a low key manner as if there's nothing at all unusual in it. Because there isn't. Stephen Dillane is entertaining in the lead, even if it's obvious what narrative arc he's going to follow. He's the businessman out of touch with his emotions who needs the somewhat more anarchic spirit that his estranged brother has in order to loosen up. His brother is a fun character played in a Zorba the Greeky way as cheerful but a bit irresponsible. The two of them together are fun, as is the rest of his family who all feel like defined characters rather than just being along for the ride. The real problem is that the film doesn't really know where it wants to go, apart from the obvious recovering his humanity angle. The finance plot either drags endlessly or advances instantaneously with no real in between. This becomes most apparent when the film seems to realize there are only twenty minutes or so left in the story and it needs to find a way to wrap up all the loose ends, which it does in a very rushed and sloppy manner. Character moments show up for no reason and it attempts to mine for pathos in the oldest independent trick in the book by adding an unexpected death to bring narrative closure. The fact that the majority of the film doesn't really need a plot is all that saves it. The little vignettes of their lives are fun to watch and that is what people will enjoy about the film.
Stuart McCunn
La típica historia de la familia rica que lo pierde todo y eso los une y se dan cuenta que son felices. Obviamente basada en El Gran Calavera sin darle créditos.
Andru Estibens
Papadopoulos & Sons Quotes
There are no approved quotes yet for this movie.