Paragraph 175
(2000)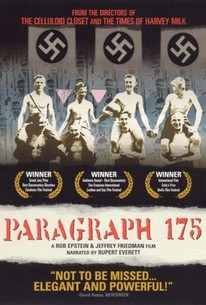 Movie Info
Paragraph 175 interviews the few surviving homosexuals who endured unspeakable horrors under the Nazi regime. Through the testimonies of these men and woman, an untold chapter of the Holocaust unfolds. It is extremely painful for these survivors to recall what they went through, and their expressive silences speak volumes.
Rating:
NR
Genre:
,
Directed By:
In Theaters:
On DVD:
Runtime:
Studio:
Telling Pictures
Critic Reviews for Paragraph 175
Audience Reviews for Paragraph 175
½
Pretty rough but worth the watch.
Sunil Jawahir
Super Reviewer
Paragraph 175 is a maddening achievement. A gripping, concise, and visually appealing insight into the contradictory origins of Nazi Germany and it's views on homosexuality and the terrible turn they took. With over a half-dozen gay men and one lesbian from the actual time period sharing their life experience. But then comes the sad realization that almost none of these witnesses reveal anything about their time in the concentration camps! One man we meet survived eight and a half years in three concentration camps, going from Dachau to Mauthausen to Buchenwald! Extraordinary (this guy should purchase lottery tickets TODAY)! But we learn nothing about his time in the camps. I get that these guys are old and that there is still, sadly, shame within in them that took grip over fifty years ago and won't let go, but how can the directors make a film about the last gay survivors of Nazi concentration camps without getting them to talk about it? As a primer to the subject matter of Paragraph 175, the law that allowed the Nazi's to arrest and intern homosexuals and eventually kill ten to fifteen thousand of them, this is solid film making. On the actual subject matter of witnesses to a horrific period of time giving testimony, it is a near failure. Simply seeing these men and one woman, still alive, telling their tales, talking about sex, revealing what gay life was like prior to the Nazis and the terrible times leading to their internment, I still recommend this documentary. But when it's over you'll shake your head at the missed opportunity. Oh, and if you want to further scrape your fingernails across a chalkboard, listen to the directors commentary track. While there is some fresh insight into the film and the people behind it, you'll also pull your hair out listening to the two American directors reveal their ineptitude. At one point one boasts that they've made a documentary German film makers never could... I'm sure there are a lot of Germans in total agreement.
Martin Johns
½
I've viewed other survivors, in other films, but the difficulties with the survivors in this film was a little different. The Holocaust is an awful event that happened. It wasn't just jews put to death, gays, christians too. We hear what it was like to be gay during this time period. How much fun they had before the Nazi regime comes in to disrupt their lively hood. We hear their stories, and the filmmaker does a fairly good job at telling their stories. It's a different perspective of holocaust survival and am happy I was able to view this film.
Dara B
Paragraph 175 Quotes
There are no approved quotes yet for this movie.
Discussion Forum
Discuss Paragraph 175 on our Movie forum!