Paterson
(2016)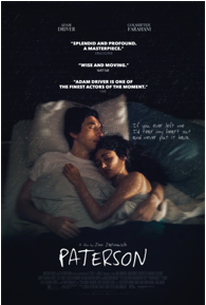 TOMATOMETER
AUDIENCE SCORE
Critic Consensus: Paterson adds another refreshingly unvarnished entry to Jim Jarmusch's filmography -- and another outstanding performance to Adam Driver's career credits.
Movie Info
Paterson is a bus driver in the city of Paterson, New Jersey--they share the name. Every day, Paterson adheres to a simple routine: he drives his daily route, observing the city as it drifts across his windshield and overhearing fragments of conversation swirling around him; he writes poetry into a notebook; he walks his dog; he stops in a bar and drinks exactly one beer; he goes home to his wife, Laura. By contrast, Laura's world is ever changing. New dreams come to her almost daily. Paterson loves Laura and she loves him. He supports her newfound ambitions; she champions his gift for poetry. The film quietly observes the triumphs and defeats of daily life, along with the poetry evident in its smallest details.
News & Interviews for Paterson
Critic Reviews for Paterson
Audience Reviews for Paterson
Throughout his career, Jim Jarmusch has made films best described as an acquired taste. With deliberate pacing, droll, deadpan humor, and zero interest in cutting away from a master shot unless it's absolutely necessary, his films made a lifelong fan out of me. HIs first movie, STRANGER THAN PARADISE, which was completely told in master shots, told the story of two men who willingly go to Cleveland in the dead of winter to visit a woman. What's not to love about that?!! Now, with PATERSON, Jarmusch plays things straight, never going for an easy laugh, and the result is one of the best films of 2016. Told over the period of a week, the film follows a Paterson, New Jersey bus driver (Adam Driver) named Paterson. So, to keep score, Driver plays a driver named Paterson in Paterson. Jarmusch likes dualities in this film. Paterson lives in a simple house with his wife Laura (Golshifteh Farahani) and their dog Marvin. Every week day, he wakes up, has a bowl of cereal, listens in on bus conversations, walks his dog, stops at a local bar for exactly one beer, comes home to his wife, and repeats it all over again the next day. A quiet man, Paterson writes poetry in a notebook, and his words spill across the screen and we often hear him reciting them or working them out as he goes. The poems, deceptively simple works of beauty, reveal the deep wells in Paterson's soul, and Driver proves himself to be enormously soulful in the role. Never once does he betray his character by winking at the audience. Instead, he's a gentle, kind man with hidden reserves of pain. How he faces the hurt in others or the disappointment in his own life should serve as a lesson to us all. This is a film about grace. It's also about the soul of an artist. The joy, for Paterson, is in the creation, not the outcome. We live in a results-based culture, and PATERSON encourages us all to relax and enjoy the process. It would be easy to categorize PATERSON as slow, repetitive, and almost completely lacking in conflict. There are many times in the film where I found myself talking back at the screen, worried that Paterson's actions would lead to something traumatic. Jarmusch, however, is so confident in his material, that he never uses drama for cheap effect. He's going for something deeper, more instructive. If only we could all be as supportive to our spouses. If only we could listen more or be compassionate to those we would normally fear. There's a scene, for example, where Paterson has a conversation with a group of guys who could easily be mistaken for gangbangers. My mind raced, thinking about where this could lead. The fact that it didn't go where I expected it to go made me sit up and respect Jarmusch's intentions. Paterson seems to surround himself with people whose lives appear infinitely more complex than his own. His boss complains a lot, and there's a guy at the local pub who's heartbroken over being recently dumped by his girlfriend. Paterson's wife, while the epitome of kindness, has a lot of goals. She has a distinctive flair for decorating their house and her burgeoning cupcake business is probably the coolest use of graphics since my last visit to the Trina Turk store in Palm Springs. She's all about black and white, including the colors of a guitar she wants to purchase in order to pursue a career as a country singer. She's a bit all over the place, whereas Paterson remains sweet and supportive of her every step of the way. How, you may ask, can a film be this good when it just seems so nice, nice, nice? Perhaps it's because it's so refreshing to see when so often the multiplexes offer up people behaving badly in addition to a non-stop pummeling of explosions. You just have to look a little harder for the conflict in PATERSON. Jarmusch likes to keep the aesthetics of his films as simple as possible, yet a look at any of his frames reveals what I like to call a quiet aching. He's helped immeasurably by Frederick Elmes' gorgeous cinematography. Elmes has had one of the most incredible careers, with such titles as ERASERHEAD, THE RIVER'S EDGE, BLUE VELVET, THE ICE STORM, SYNECDOCHE, NEW YORK, NIGHT ON EARTH, KINSEY, and this year's HBO masterpiece, THE NIGHT OF. He has bolstered the careers of some of the greatest filmmakers of all time and has done so without ever calling attention to his work. He's not a "look at me" type of cinematographer, but a "look with me" one instead. With PATERSON, he serves the material and more importantly, the character, making it feel like a shared experience. So, if you have patience, an open mind, and a desire to connect with a story of simple pleasures, then PATERSON may just give you hope. Many keep talking about how we need a film like LA LA LAND right now. We need a film that makes us feel good, especially when 2017 has the potential to be such a shit storm. I would counter that we need a film like PATERSON even more. LA LA LAND may make you feel good, but PATERSON shows you how.
Glenn Gaylord
Super Reviewer
½
Observations that are insightful and honest don't automatically render them entertaining. And maybe entertainment isn't exactly what writer/director Jim Jarmusch is shooting for in his latest endeavor, Paterson, but it can't help but to seem that boredom outweighs any merit born from the introspection on display. More than anything it seems Paterson might be the auteur pushing his limits to their breaking points-seeing just how far people will follow him down the poet hole without promising them much in return. In Paterson, Jarmusch coerces a group of individuals and their routines into a "week in the life" structure that sees the titular Paterson (Adam Driver) going about his business, observing others, and ultimately leaving little impression of his own. Some may argue that the quiet charm of Paterson comes from the way in which he doesn't necessarily participate in life, but how he observes and interprets it as communicated by his writings that are sprawled across the screen. One might say Paterson's appeal comes from the small truths that are highlighted in his relationships with those he encounters on a daily basis whether that be with his wife, Laura (Golshifteh Farahani), his boss, Donny (Rizwan Manji), or the bartender (Barry Shabaka Henley) at his favorite spot that he visits each night not necessarily to shoot the breeze himself, but rather to hear others vent about their own lives. The one aspect in which I could see such a point is in the dynamic Jarmusch allows to play out between Paterson and his dog Marvin. Marvin is a posh little English bulldog who clearly sees himself as the protector of Laura and with whom he shares something of an equal disdain with Paterson. Watching the two eye one another and the contemptuous nature of the relationship go back and forth makes for some of the films biggest laughs and unfortunately for some of the only entertaining moments in an otherwise routine film about routine. In essence, Paterson is a film not without its charms, but its paper thin premise proves unable to support its two hour runtime with the intention to uncover how a very structured and sobering existence might still prove to be surprising only revealing as much to be just as ordinary as one may expect if not occasionally inspiring. read the whole review at www.reviewsfromabed.com
Philip Price
Super Reviewer
Adam Driver is great and delivers a sensitive performance in an intelligent character study that shows us a week in the life of a man living a melancholy existence, and it is very nice to see how Jarmusch uses black-and-white patterns to underline the character's ordinary routine.
Carlos Magalhães
Super Reviewer
Paterson Quotes
There are no approved quotes yet for this movie.
Discussion Forum
Discuss Paterson on our Movie forum!