Pound Puppies - The Legend of Big Paw
(1988)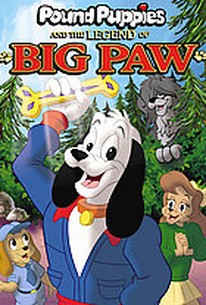 AUDIENCE SCORE
Critic Consensus: No consensus yet.
Movie Info
Rating:
G
Genre:
On DVD:
Runtime:
Critic Reviews for Pound Puppies - The Legend of Big Paw
All Critics (2) | Top Critics (1) | Fresh (0) | Rotten (2)
"Pound Puppies" lends new vehemence to the expression "going to the dogs."
Los Angeles Times
Top Critic
The animation is basic low-budget dull, and the voices don't add much to the characterizations, but there are some nice songs, done in 1950s doo-wop rock style.
Audience Reviews for Pound Puppies - The Legend of Big Paw
One of the worst animated movies ever made, The Pound Puppies Movie is lazily animated, unfunny, confusing, annoying, and incredibly stupid. The songs are bad, the voice acting is bad, and the story is bad. It didn't fall in line with the show either; if that even matters. In the 80s, if a popular toy was made into a tv show, they just had to make a movie as well. This is one of the dumbest animated movies I have ever seen.
Jake Metzgar
½
Only youngsters will get a kick out of this toyline-inspired commercial masquerading as a 70-minute animated film, which saves itself (only marginally) from total banality with its lively takes of classic rock songs ("Let's Go To the Hop" and "Duke of Earl", for instance). Otherwise, this rather dreary tale suffers from all the drawback of most kiddie features of this type: flat, uninspired animation, cardboard cut characters and lame slapstick "comic" sequences. Neither the heroes nor the scenery-chewing villain (who SHOUTS just about EVERY LINE!) or his dumb sidekicks have anything in the way of compelling personalities. Avoid this mind-numbing mess of a toy film at all costs; there are better choices to entertain children.
Jon Turner
coming from a guy who writes reviews, I can say that my views as a critic differ from the views as a child. A child is pleased by most any movie as long as it isn't a horror film. If you grew up with this movie, then you will be more likely to enjoy it than someone who hasn't. It is like Pokemon. If you didn't grow up with the movie, then you will be less likely to enjoy it as an adult. As a critic though, Ehhhh
Elijah McGuire-Berk
Pound Puppies - The Legend of Big Paw Quotes
There are no approved quotes yet for this movie.