Der Krieger und die Kaiserin (The Princess and the Warrior)
(2000)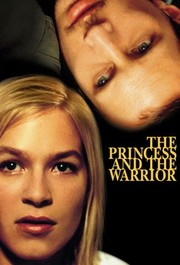 Der Krieger und die Kaiserin (The Princess and the Warrior) Trailers & Photos
Movie Info
Director Tom Tykwer followed up his international hit Lola Rennt (Run Lola Run) with this drama, which also examines young people living on the edges of the law. Sisi (Franka Potente) is an attractive but withdrawn woman who works in a psychiatric clinic, while Bodo (Benno Fürmann) is looking to make some quick money after his recent release from the army. Bodo robs a gas station and is fleeing on foot when he accidentally causes Sisi to be hit by a truck. Realizing she's seriously injured, Bodo comes to Sisi's rescue and performs an emergency tracheotomy on her before he escapes again. Sisi, who is often pursued by men but shies away from their advances, finds that she longs to meet the mysterious Bodo again, and eventually tracks him down to a hideout he shares with his brother, Walter (Joachim Krol). Bodo and Walter angrily send Sisi away, but she unexpectedly encounters them when they pull a robbery at a bank where she's running an errand. Bodo and Walter are caught in a shoot-out with police, and Sisi helps to spirit Bodo away to the clinic where she works, trying to spare him the grim news that Walter was killed in the melee. In addition to serving as writer and director, Tom Tykwer also composed the musical score for The Princess and the Warrior in collaboration with Johnny Klimek and Reinhold Heil.
more
Cast
News & Interviews for Der Krieger und die Kaiserin (The Princess and the Warrior)
Critic Reviews for Der Krieger und die Kaiserin (The Princess and the Warrior)
Audience Reviews for Der Krieger und die Kaiserin (The Princess and the Warrior)
½
a fairy tale, as the title suggests, in the sense that fairy tales are myths of psychic healing. it's one of the oldest functions of storytelling and the characters here are archetypal. love franka and that hypnotic piano theme during the heist. an ambitious film on many levels and i was pretty into it up until the end, when everything is seemingly spelled out in giant block letters just in case we didn't get it.
Stella Dallas
Super Reviewer
½
A psychiatric nurse tracks down the mystery man who saved her life after a traffic accident but finds herself on the run when she is caught up in his attempt to rob a bank. The Princess and the Warrior is an offbeat love story that has "European cinema" written all over it. Two damaged individuals find solace in each others arms after various trauma that affect their lives and much forced poignancy and unlikely coincidence indicating "fate" rear their heads in the process. It's basically the kind of film that would never be made in Hollywood and as such does feel quite refreshing but there is an underlying air of pretension that stops it from being a truly great film; the metaphorical ending in particular was rather ham fisted in way that made me feel that the director might as well as drawn an "emotional" diagram with accompanying flow charts and maybe a nice bar graph thrown in. But as with all films, the entertainment level boils down to whether the story interests you and the performances appeal and in this case, they do. Pretty to look at and oddball enough to please any fans of indie or world cinema, if a little emotionally unaffecting for the above reasons.
Der Krieger und die Kaiserin (The Princess and the Warrior) Quotes
Discussion Forum
Discuss Der Krieger und die Kaiserin (The Princess and the Warrior) on our Movie forum!
News & Features