The Princess Blade
(2002)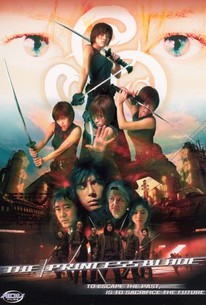 TOMATOMETER
AUDIENCE SCORE
Critic Consensus: The action is fast and tightly choreographed, but The Princess Blade never draws its disparate elements into a compelling movie.
Movie Info
Based on a manga series, this science fiction-adventure is set in a near future in which Japan is governed by a monarchy who use a highly trained band of samurai-style assassins known as the House of Takemikazuchi to suppress a fierce band of rebels. Yuki (Yumiko Shaku), a lethal young female member of the group, discovers that her mother was betrayed and murdered by the their leader, and swears vengeance. After being wounded in battle, she takes refuge in a remote gas station run by Takashi (Hideaki Ito), a young man who is actually a member of the underground rebel army. Despite their mutual mistrust, he nurses her back to health and they form a bond as she seeks to continue her mission of vengeance and he tries to convince her otherwise.
Critic Reviews for The Princess Blade
Audience Reviews for The Princess Blade
A cliched revenge story but enjoyable none the less. Pretty decent fight scenes and a good soundrack to boot. Enjoyable enough but not one I would strongly recommend. If you need to watch Japanese girls swinging swords watch 'Azumi' instead of this, after that watch 'Azumi 2' and if you're still not satisfied 'The Princess Blade' may help.
Cameron Sherwell
Super Reviewer
Japanese slash-'em-up based on comic book material. Disappointingly lacking in action during the middle parts where it gets a little slow, but when the action gets going it's pretty cool and stylishly choreographed, all masterminded by action star Donnie Yen. Would have been nice to have a little more fight sequences and blood spurting to go with it too. Overall nothing memorable here unfortunately, but it's not a bad film.
The heiress to the leadership of a clan of wandering assassins finds out that they were responsible for the death of her mother and cliches ensue. Based on a comic book, The Princess Blade is yet another in a long line of modern day samurai movies involving a bunch of MTV style sword waving, slow motion high kicks and pirouetting stuntmen, punctuated by deathly dull melodrama as two hard asses "learn to love". The fight scenes are adequately handled and the pretty cast nice to look at, but the hackneyed plot consisting of a constant trickle of dreary dialogue spouted by one dimensional characters means it's extremely difficult to give a crap what happens to any of them. Safe to say that the girl gets her revenge, the villain gets a good stabbing in the end and I wish I'd spent the previous hour and a half watching Azumi instead. Yawn.
The Princess Blade Quotes
There are no approved quotes yet for this movie.