Prisoner of Paradise
(2002)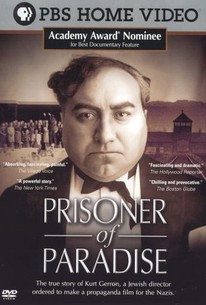 Prisoner of Paradise Videos
Prisoner of Paradise Photos
Movie Info
A chronicle of the true story of Kurt Gerron, a well known and beloved German-Jewish actor, director and cabaret star in Berlin in the 1920's and '30's. Among his greatest accomplishments, he co-starred with the legendary Marlene Dietrich in the film classic, "The Blue Angel." He also sang "Mack The Knife" in the original production of "Threepenny Opera." Ultimately, Gerron was captured and sent to a concentration camp, where he was ordered to both write and direct a pro-Nazi propaganda film.
Rating:
NR
Genre:
,
Directed By:
Written By:
In Theaters:
On DVD:
Runtime:
Studio:
Cast
Critic Reviews for Prisoner of Paradise
Audience Reviews for Prisoner of Paradise
Oscar-nominated documentary about Kurt Gerron, famous at the time German Jewish film director and performer. The story of his amazing shot to fame and fortune and demise and death during Nazi take over Germany when he was made to make propaganda film while being at the concentration camp.
Igor Vander
[font=Trebuchet MS][size=3]This film had an interesting premise -- a famous Jewish director was ordered to create a Nazi propaganda film, showing concentration camps as pleasant places to live and that Jews were being treated well. The problem with this film is that the premise comes too late, is given too little attention, and instead of relying on facts the director relies on manipulation in order to prove his point.[/size][/font] [font=Trebuchet MS][size=3][/size][/font] [font=Trebuchet MS][size=3]Prisoner of Paradise reminded me of a horrible English paper. It states its thesis early in the film, but doesn't actually spend time presenting this thesis until the latter portion of the film. Sure, there is some background information given along the way, but most of it is monotonous, irrelevant, and oftentimes obvious to anyone who knows the basic details of the holocaust (virtually everyone). [/size][/font] [font=Trebuchet MS][size=3][/size][/font] [font=Trebuchet MS][size=3]Another problem is that while divulging all this background holocaust info, the movie moves painfully slow. They picked the worst people on the planets for their talking head interviews, and I flat out zoned out for most of the middle of the film as a result. Yes, this film bored me to tears. I was tempted to walk out at times, and at others I was tempted to just go to sleep.[/size][/font] [font=Trebuchet MS][size=3][/size][/font] [font=Trebuchet MS][size=3]My attention was aroused again towards the end of the film, when the ghetto that becomes the subject matter for the propaganda film is introduced. From then on, the film is entertaining and interesting. The problem is, the director has already wasted so much film on irrelevant details that there is hardly any time left to focus on the meat of the story. [/size][/font] [font=Trebuchet MS][size=3][/size][/font] [font=Trebuchet MS][size=3]The conclusion was predictably horrible, because instead of just providing the facts and let the audience sort out their feelings about the events, the director relies on pathetic attempts to appeal to people's emotions and sympathy. The most obvious attempt is one scene where he uses still images of children's faces who eventually were shipped off to death camps. C'mon, really! This is the lowest form of manipulation a director can resort to.[/size][/font] [font=Trebuchet MS][size=3][/size][/font] [font=Trebuchet MS][size=3]Unfortunately the director did a fantastic job at working with archived footage, and blending real and dramatized events with interviews. I just have to wonder what happened with everything else.[/size][/font]
Aaron West
Prisoner of Paradise Quotes
There are no approved quotes yet for this movie.