Psycho Ward
(2007)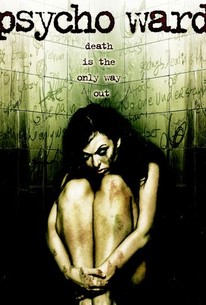 AUDIENCE SCORE
Critic Consensus: No consensus yet.
Movie Info
A group of urban explorers discover a dark secret in the bowels of an abandoned mental hospital in this bloody independent horror film. The Black Creek Detention Center was home to some of the most violent, psychotic criminals ever committed. Shortly after making their way inside, the curious explorers find their ranks beginning to thin. Someone is methodically killing them off, but who could it be? As the clues start to add up, the few remaining survivors must rely on their instincts in order to make it out alive.
Critic Reviews for Psycho Ward
There are no critic reviews yet for Psycho Ward. Keep checking Rotten Tomatoes for updates!
Audience Reviews for Psycho Ward
½
Badly filmed, horrible acting, ok story, but it does have a creepy location and good bloody scenes.
Jacob Palacio
Super Reviewer
Hahahahaha. This movie was so entertaining (in a sad way). Even though it was by far the shittiest scary movie I have ever seen, I absolutely loved it. The irrational decisions made by the characters, and the completely unrealistic gore was fantastic. It was hilarious. I was cracking up. The acting was awful; you will never hear about any of those actors ever again. haha. The one boy was on a table getting nails drilled into his arm and he was like "Ow." hahahaha. No screaming just "Ow". "What are you doing. Ow. No. Ow." No exclamation points or question marks. haha classic. The writer for this movie is pure genius. The actors are just as talented though. It seemed like I was watching a bunch of kids from my high school perform a skit they really, really didn't want to do, but they had to for a grade. I also don't think any of the actors read the script or thought about what they were saying/doing. Apparently the one boy and girl were supposed to be siblings, but it seemed like they were a little too intimate to be blood related- they gazed into each others eyes, held each other in close embraces, and were constantly worried about one another. It was creepy. Their relationship scared me more than the fact that they were being hunted by a mad man. The gore was terrible as well. The blood on that one knife looked like strawberry jelly. Like first of all, blood doesn't dry quite that quickly, and when it does dry, it doesn't look like magenta in color, nor does it look sticky. It looked like it had the texture of burnt cheese. Yum. The whole plot was totally flawed as well. Whose idea was it to have a bunch of kids explore a closed down mental facility? Hmmm? I think it sounded better in their head. There were a bunch of plot holes like the motive, and the history of the mental facility. It was really unclear in the film.....Speaking of clarity, I bet the movie would've been a lot easier to understand had the sound of the film been audible! Some parts were so loud, and other parts were so quiet I couldn't hear what the people were saying. I had to constantly fiddle with the volume, and I hate doing that when I watch movies. The whole movie was unrealistic, duh, but some parts were so unrealistic I couldn't control myself. This one part was probably the best part of the entire movie. The professor or kid or whatever got stabbed in the stomach. It was a pretty deep wound, so his entire shirt was soaked with blood (or strawberry jelly). The part that made me crack up was the fact that because of his "stomach wound" he was unable to walk. I would love to know how a wound to the stomach would affect the mobility of his legs. If his wound was in the back, yeah I guess paralysis could be a reason for his walking impairment, but this was his [I]stomach[/I]. So the dude is crawling on the floor (on his stomach because that doesn't hurt at all), and though his wound is deep and his t-shirt is soaked with blood, there's no trail of blood or anything on the ground. haha. Wait, what? It's a sad, sad attempt at movie making. The lighting is off, the editing is bad, I could go on and on. I did really enjoy this movie though. I haven't laughed this much at a horror movie in a longggg time.
Psycho Ward Quotes
There are no approved quotes yet for this movie.
Discussion Forum
Discuss Psycho Ward on our Movie forum!