PTU (PTU - Police Tactical Unit)
(2003)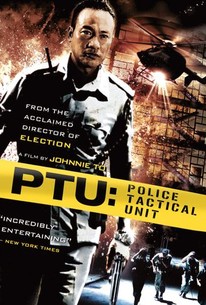 PTU (PTU - Police Tactical Unit) Photos
Movie Info
Johnny To's police drama PTU details the ramifications of an officer losing his weapon. Seargant Lo (Lam Suet), head of the police anti-crime division, finds his gun missing after an altercation with a gang. Police Tactical Unit (PTU) team leader Mike Ho (Simon Yam), not wanting to get the soon-to-be-promoted Lo in hot water, gives him some time to recover the firearm. While Li and Mike attempt to find the gun before the gang kills anyone with it, police investigators suspect that there may be corruption within the PTU. To filmed the picture off-and-on for over two years before it played at the 2003 Berlin Film Festival.
Critic Reviews for PTU (PTU - Police Tactical Unit)
Audience Reviews for PTU (PTU - Police Tactical Unit)
Breaking away from conventions of the genre, Johnnie To's PTU is one of its kind. From the outset, PTU is a police procedural that follows an ensemble of cops who bend the rules in order to withhold an unwritten code of honor and loyalty for each other. However, the film proves much more interesting than just that. Not only does it operate entirely within a moodily crafted atmosphere on a single night (finely designed and photographed by To and his team), PTU features characters that drive the piece in a subtextual, cool, and almost silent way that is both unique and bold in its execution. The pools of light accentuate the calm yet eerie streets of nocturnal Hong Kong - all the more appetizing for viewers when our heroes, or non-heroes perhaps, emerge in cinematic formation out of the larger darkness - a trademark visual strength that To has developed over the years. The confusing cat-and-mouse plot may alienate viewers initially, but the beauty of this work is the artistic direction that To infuses into every frame, sequence, and outcome. This is not the everyday narrative, nor is it planning to fall into any norms. This is a Johnnie To stamp on HK cinema; a film that further paves the way in which he continues to reinvent his personal style and stir up the patterns of cinema at the time. Likewise, although polarizing, PTU is a visual treat that begs for multiple viewings.
Sheldon Chau
Super Reviewer
Leave it to Johnnie To to make something good out of what seemingly seems like nothing. He shows once again why he is one of my favorite directors.
The film plays out like any other Johnnie To Hong Kong crime drama. Slow paced, minimal dialogue, and little to no action. Sounds boring right? Well, those of you who have seen Johnnie To films should know that with his direction and writing, these films turn out much better than the cliched Hong Kong action films. The great cinematography and storytelling more than make up for the lack of action and dialogue.
The story is actually pretty slim at the beginning, but as the film moves on the story becomes a little more deep. There are times when the story may seem off-track, but the great ending is where everything unfolds and all the characters come together. The ending really is the high point of this film. This is where you get the only shootout and Johnnie To, once again, is able to create a piece of work out of it. Great stuff. Another nice thing about this film is that it all takes place in the matter of one nights time. So yes, it is a dark film, settings wise.
The usual Johnnie To cast of Simon Yam, Maggie Shiu, and Lam Suet are able to bring the good acting to this film. My only complaint is that Maggie Shiu's character should have gotten more airtime.
This isn't Johhnie To's greatest work, but like Tarantino films in America. This film is still much better than many other Hong Kong films out there. Give this a watch if you're a fan of the To.
½
While not my favorite Johnny To film, still better than most, just not as good as I expect from him. As usual, it is the typical Milkyway cast and again Yam shows why I love him so much. He doesn't even have to have dialogue to show his talents. Story wise it isn't that deep or original, but that doesn't stop To from making it interesting. It contains the subtle humor that To fans should be accustom with in his films. Having said that, I still think it is more geared to fans of To and not the more accessible as say Exiled.
Kevin "The Ninja"
Super Reviewer
PTU (PTU - Police Tactical Unit) Quotes
There are no approved quotes yet for this movie.