The Pumpkin Eater
(1964)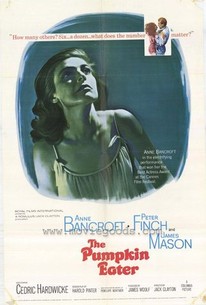 Movie Info
Anne Bancroft stars as a restless, twice-married British woman with six children, whose third husband is a fledgling screenwriter (Peter Finch). When success spins Finch's head around, he begins to dally with women other than his wife. Meanwhile, Bancroft is forced to stay home and play "domestic goddess", a role for which she is utterly unsuited. After suffering a nervous breakdown, Bancroft wanders the streets of London in a vain search for a sympathetic ear. She eventually comes to grips with the situation at hand--but as in most of playwright Harold Pinter's works, the characters of The Pumpkin Eater are just as unfulfilled in the last scene as they were in the first. Anne Bancroft won a Cannes Film Festival award for her performance in this film. ~ Hal Erickson, Rovi
Critic Reviews for The Pumpkin Eater
Audience Reviews for The Pumpkin Eater
Jack Clayton ("Room at the Top," "The Innocents") directed this Harold Pinter script, crafting a somber portrait of a sham household. Jo (thirty-something Anne Bancroft, playing a jaded, older woman just as she did in "The Graduate") is stuck in her third loveless marriage, trying to fill the void with an abundance of children (presumably, the film's title is a reference to a pregnant woman's shape). Her current husband (Peter Finch) is a famous screenwriter whose work compels him to spend ample time away from home. She stays behind to weather the chaos of six energetic kids, but is prone to dark moods. Admirably, the story avoids cheap sentimentality and offers no easy solutions. The young Maggie Smith has a brief role as a sexy house guest.
Eric Broome
Super Reviewer
Terribly depressing which may have influenced my review of the film..but likely not. I give it a middle grade.
John Ballantine
Super Reviewer
This is a good melodramatic movie, I don't usually like that genre, but I got into this one, it was engaging. I should watch it again sometime.