Ride, Rise, Roar
(2010)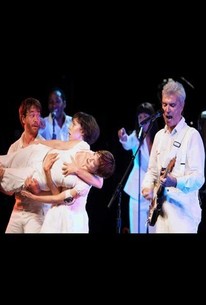 Movie Info
The David Byrne concert film blends riveting onstage performances with intimate details of the creative collaborations that make the music and performance happen. It blends the energy and charisma of classic Talking Heads with the heartfelt pathos of David Byrne and Brian Eno's most recent collaboration. Between the songs, the film achieves an unprecedented intimacy with David Byrne and the band, documenting behind-the-scenes auditions, rehearsals, and interviews with key players while revealing the creative process that led to the show's unique fusion of pop music and modern dance. "Ride, Rise, Roar" celebrates Byrne's extensive career as a musician and testifies to the creativity that keeps him going today.
Critic Reviews for Ride, Rise, Roar
Audience Reviews for Ride, Rise, Roar
½
I should prelude this by saying the band is superb, the songs sound superb and audio gets a solid 9. However the overall product left me scratching my head too often. I always have respect for artists who try to push the boundaries of what they do later in their careers, but the problem here is that Ride, Rise, Roar isn't really that different. It's like a karaoke version of Stop Making Sense. The whole premise of the visual experience is dancing, but SMS already had choreographed on-stage dancing. The difference is that it was more natural and uniform and rhythmically in-tempo with the hypnotic music. This film features what look like three Stanford grads spazz dancing for an hour and a half. It doesn't ad any deeper meaning to the melodic or lyrical content. Instead of interpretive dance they might as well have just hired actors to pantomime scenes. What I think this project forgot was that David Byrne was and will always be the centerpiece, even in the Talking Heads days. This concert concept tries desperately to make you interested in these dancers who get in the way of the only person on stage with actual presence. Stop Making Sense got it right, Byrne danced and everyone else mimicked his movements, creating a giant framework that directed the audience attention perfectly. RRR is an on-stage free-for-all.
Brett Warren
Super Reviewer
Ride, Rise, Roar Quotes
There are no approved quotes yet for this movie.