Russian Doll
(2001)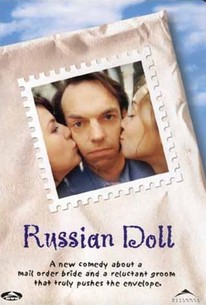 Movie Info
A romantic comedy set in Sydney, Australia, Russian Doll centers around an unlikely love triangle. Ethan (David Wenham) is a married book publisher who meets the captivating Katia (Natalia Novikova), a young Jewish woman from St. Petersburg. They are madly in love, but in order for Katia to stay in the country, she must marry. Ethan recruits his pal Harvey (Hugo Weaving), a private investigator who has aspirations of becoming a crime novelist. While investigating Katia, Ethan also becomes enticed by her, and he and Katia soon embark on an affair of their own. Katia is torn between the two men and must decide with whom she'd rather spend the rest of her life. The film also features Ilusha Bayer and Michael Britvan.
People Who Like this movie also like
Critic Reviews for Russian Doll
Audience Reviews for Russian Doll
For many of us Yanks there's little experience with the world of film from the land down under (unless a film breaks the ranks and becomes a international sensation), and that's why you mightn't've seen Hugo Weaving act like a regular guy in this Australian offering. He plays a wannabe writer who's unlucky in love until his best friend asks that he house his new girlfriend for a minute. Guess what happens next? In the meantime there's the gratuitous use of popular songs played over the usual montage of shots of the mismatched couple falling for each other that so overdone its overdone already. The twist here is that she's a Russian, and so the couple visit Russian restaurants and we get to see Weaving experience that, or they go to a Russian nightclub and try Russian dancing ... you get the picture. Natalia Novikova does the foreign "other" pretty well and Weaving plays "not a bad guy for a change". Its not as offensive as I described. I think.
Kevin M. Williams
Super Reviewer
Russian Doll Quotes
There are no approved quotes yet for this movie.