Saving Marriage
(2006)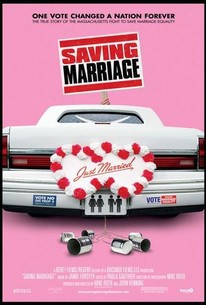 Movie Info
The excitement and suspense surrounding the battle for same-sex marriage serves as the focal point of this documentary from filmmakers Mike Roth and John Henning. November 18, 2003: the day that the Massachusetts Supreme Court ruled that same-sex couples have the same right to marriage as heterosexual couples. But while some assumed that this was the end of the battle, it quickly became apparent that it was only the beginning. Almost immediately after the ruling passed, it came under attack by right-wing conservatives. In this film, Roth and Henning offer a fascinating glimpse behind the scenes of this epic battle for equality. From the lawyers to the lobbyists to the gay couples who jumped at the opportunity to marry even as state legislators struggled over the constitutional amendment, this film speaks with men and women on each side of the issue while scrutinizing each individual skirmish and detailing Massachusetts' muddled methods of amending its constitution in no uncertain terms.
Critic Reviews for Saving Marriage
Audience Reviews for Saving Marriage
½
I'm torn: I want to extol the virtues of Saving Marriage on purely my personal beliefs, but I can't give it an unqualified recommendation as a movie. Why? There's something...off...about it as the story of Massachusetts allowing gay marriage is told. Small technical issues like the lack of date stamps and the way the narrative seemingly skips from the marriage fight to an election fight had me scratching my head more than once. However, this is a compelling story obviously centered on the pro-gay side of the debate. It certainly plays on emotions, which most documentaries do, but never manages to have the two sides sit down to just talk without the rhetoric. That is squarely because of the real time nature of the film. And when a key legislator changes his vote at the last minute, it almost comes out of nowhere for the same reason. Still, this is a prime example of how ordinary people changed the course of a state after losing a battle, but not the war.
Jason Vargo
Super Reviewer
Saving Marriage Quotes
There are no approved quotes yet for this movie.