Schlock
(1973)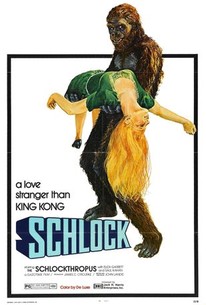 Movie Info
Southern California is being terrorized by a mysterious murderous monster living in a cave. As the bodies pile up -- with incriminating banana peels always near by the crime scene -- a group of teens stumble on the guilty party: a 20-million-year-old Schlockthropus, an ape-like creature with a sense of the absurd. Schlocky moves easily through a strangely stupid suburban society, the members of which don't seem to see him as a hairy menace. Young Mindy Binermen (Eliza Garrett), blind for the last three years, falls in love with him thinking he's a dog. When an operation to restore her eyesight proves successful, she discovers her pet is a lovesick gorilla being chased by the National Guard.
Rating:
PG
Genre:
, ,
Directed By:
Written By:
In Theaters:
On DVD:
Runtime:
Studio:
Jack H. Harris Enterprises
Audience Reviews for Schlock
John Landis wrote, directed and starred in his first film, a monster movie parody about a monkey man who falls in love with a girl who was blind but just had an operation to give her sight. It is goofy, it is madness, and it is fun. Landis when on to direct many well-known features, but his first is a rarely seen goof on corny monster movies with some solid gags throughout. I enjoyed this, found it funny, and thought Rick Baker's early work was surprisingly good considering how early in his career this really is and how small the budget must've been.
Ken Scheck
It's zany fun. There isn't much of a plot, but somehow it's neat to follow Schlock around. The characters are corny and the acting is purposely bad. While the dumbness does numb the humor some, there are still laughs throughout. It'll make a great double-feature with Attack of the Killer Tomatoes.
Wes Shad
A monkey type monster falls inlove with a blind girl who in return thinks he is just a big dog of cause this monkey has been terrorizing the neighborhood and once he kidnaps the girl things finally go to far cause now the army is finally after him and aims to bring this bad monkey down. One of the earlier films of John Landis is also not a bad one this of course is made as a spoof and some of the jokes fall flat but its a goofy good time for anyone that wants to check it out.
Discussion Forum
Discuss Schlock on our Movie forum!