Schultze Gets the Blues
(2005)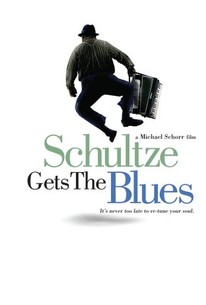 Schultze Gets the Blues Videos
Schultze Gets the Blues Photos
Movie Info
Schultze is a simple salt mineworker, who has spent his entire life near the review Saale in the former East German state of Saxon-Anhalt. He rides his rickety bicycle across the serenade landscape to and from the mines. He drinks beer in the local pub, fishes off a pier with his workmates Jurgen and Manfred, and watches them nearly come to blows over a chess game. For Schultze, that's really all the spice he needs. When he and his buddies are suddenly laid off at the mine and forced into retirement ten years too early, not even the polka music Schultze has played on the accordion since he was a boy can put the zest back into his life--but just maybe a little zydeco can! Wandering around his modest home, trying to find contentment in a life of leisure he never asked for, Schultze is channel surfing through radio stations one day when he suddenly catches an unfamiliar rift of music--lively music that puts a spring in his step that had never been there before. But what of polka? Try as he might, this zaftig salt miner, who has been churning out the same accordion music of generations before him, can't get zydeco out of his system. In an instant, years of music tradition tumbles as easily as the Berlin Wall, and much like that momentous event that brought Germany closer to the Western World, a tie forms between Schultze and America that simply has to be explored.
Rating:
PG (for mild language)
Genre:
, ,
Directed By:
Written By:
In Theaters:
On DVD:
Box Office:
$413,801.00
Runtime:
Studio:
Critic Reviews for Schultze Gets the Blues
Audience Reviews for Schultze Gets the Blues
½
Watch the first 5 minutes to see if you have the patience this film requires! If not, don't be ashamed to put it aside for later. When you do go for it, be sure to watch the *whole* thing; stopping halfway through will just leave you frustrated. I came in already liking a lot about the subject matter -- accordion music, garden gnomes, the bayou -- but it was still difficult to watch. It's paced SO FRIGGIN' SLOW (and doesn't really get much quicker as it goes on). And yet... the last 10 minutes made me rethink the whole thing and look back on it more warmly. As some reviewer said, "It's a bit of a surprise when the film ends and you realize that you've been touched in unanticipated ways by Schultze's solitary quest." The plot itself makes me reflect on what's the meaning of life, where to look for joy, etc. And there are a few *great* little moments (when he first hears the new music on the radio, or when his first zydeco dance-partner leaves him). Still, I don't know that I could sit through it again. Perhaps the way it's filmed is *supposed* to feel uncomfortable to someone used to modern fast-paced Hollywood film-making? Maybe that's the whole point? Maybe if I knew more about film art theory I could appreciate why the camera is always still and unmoving, or why *every single scene* goes on for 30 seconds longer than it "needs to" by usual standards... but I'm not good at that stuff. It definitely gives the film an unusual character!
Jerzy W
Tranquility and isolation paired up with tenderness and the fascination of glimpsing into the lives of others make this my favourite arthouse movie ever. The story of a retired mineworker discovering the magic of American Blues which sends him on a personal, as well as actual journey into the heartland of America. Amazing and mezmerizing, this movie is most definetly not for everyone, as it is a far cry from Hollywood cinema, being far too subtle, slow and simple. Don't be fooled though, behind it's lighthearted touch breeds a heavy philosophy of self-discovery and love for all things beautiful and human.
Henrik Schunk
Super Reviewer
½
We rented this movie because the premise sounded wonderful. I LOVE zydeco music. Unfortunately, this is the slowest paced film of all time. I have watched documentaries with more pep. We could only manage the first 20 minutes or so before we had to turn it off, because NOTHING happened. I think that this filmmaker was better suited as a photographer - he pauses on many beautiful scenes, but he just sits there for far too long. This film is tiring.
jen theesfeld
Schultze Gets the Blues Quotes
| | |
| --- | --- |
| Jurgen: | You're never too old for a revolution. |
| | |
| --- | --- |
| Schultze: | I'm surrounded by idiots! |
| | |
| --- | --- |
| Frau Lorant: | Now you have Time. |