See the Sea
(1998)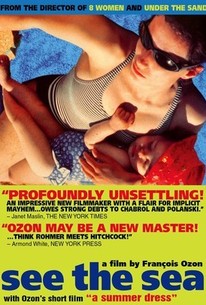 Movie Info
This French suspense drama, set on an island off the Atlantic coast of France, is a medium-length feature, running 52 minutes. Isolated at a cottage on the Ile d'Yeu, young Englishwoman Sasha (Sasha Hails) is alone with her baby daughter when sullen backpacker Tatiana (Marina de Van) turns up. Sasha allows Tatiana to pitch her tent near the cottage and later invites her to dinner. Sasha is fascinated yet wary, since Tatiana's edginess not only generates a sinister sexual tension, it seems to mask a deeper hostility, hinting at potential violence. The escalating threat leads to a stunning surprise for Sasha's husband (Paul Raoux) when he returns to Paris. The film was paired in theaters and on video release with Ozon's Une robe d'été/A Summer Dress, a light-hearted 15-minute drama in which an 18-year-old gay man, on vacation with a boyfriend, has a brief sexual interlude in the woods off the beach with a young woman, who lends him her dress when his clothes are stolen. He rides home from the beach on his bicycle, wearing the dress, and has sex with his boyfriend, whom he had snapped at earlier. The movie captures the lightness and breeziness of summer, of the seaside, of being young, good-looking, and sexually adventurous. ~ Bhob Stewart, Rovi
Critic Reviews for See the Sea
Audience Reviews for See the Sea
½
Once again, Ozon explored sexuality and suspension of the humanity. It's an erotic drama that has many depths. It's short but it gives you an uneasy feeling constantly. Nothing was explicitly shown but you could see the symbolism straightaway. The baby was really cute by the way.
Sylvester Kuo
Super Reviewer
An unsettling film. Progressively ominous and exquisitely directed.
Randy Tippy
Super Reviewer
½
52 minutes of edge of your seat tension without any of the cinematic cliches to force you to feel nervous. It all starts off very real. The interaction between mother and daughter is spot on. Caring even if frustrated, the mother does her best. One scene with no dialogue shows the mothers frustration and wanting to escape as she tries to read a book with her daughter following her every move. Once a stranger shows up she disturbs the balance but mostly only for the audience to see. It shows the mothers uneasiness, before warming to her guest, that gives her something new. At the same time though the audience is shown disturbing glimpses into the strangers mind. Short, simple, minimal but very effective. The ending smashes you over the head and then the film ends. Leaving you to finish the story yourself.
Luke Baldock
Super Reviewer
See the Sea Quotes
There are no approved quotes yet for this movie.