Seeing Other People
(2004)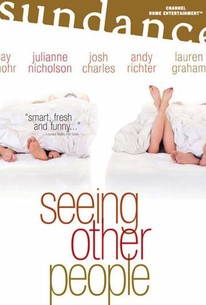 Seeing Other People Photos
Movie Info
Directed by Wallace Wolodarsky, Seeing Other People features Jay Mohr and Julianne Nicholson as Ed and Alice, a soon-to-be married couple with one rather significant problem facing them: Alice doesn't think she's had enough sex to excuse settling down with one man for the rest of her life. Though reluctant, Ed agrees, at Alice's insistence, to have a premarital free-for-all of sorts; a period in which both Alice and Ed are allowed to explore sexual and emotional relationships with other people. Complications ensue when it turns out that fooling around with multiple partners as a method of strengthening the sanctity of marriage isn't as easy as it appeared. Seeing Other People also stars Lauren Graham, Bryan Cranston, Josh Charles, and Matthew Davis.
People Who Like this movie also like
Critic Reviews for Seeing Other People
Audience Reviews for Seeing Other People
Ed and Alice are engaged. They love each other and feel comfortable in each other's presence. He has slept around before meeting Alice. She has a lot less experience. Alice suddenly gets restless because she imagines she's lacking experience in that area. She suggests to Ed that they have sex with other people before getting married. He doesn't want to, but she insists that if they are both completely honest, it could work. He very reluctantly agrees they should both see other people for a while. The film shows that guys are sensitive at heart and have morals. Most of the male characters are the moralistic, straight forward types, while the women are by far the most promiscuous as they speak of nothing but pleasure and what it would be like to have sex... with someone else. They have amicable traits though, even though they are covered by the image of sex driven kittens. The moral of the story is that sex without love means nothing; you can see the train wreck coming but this movie is not bad at all.
Leigh Ryan
Super Reviewer
[font=Century Gothic]"Seeing Other People" is about Alice(Julianne Nicholson) and Ed(Jay Mohr) who have just gotten engaged after dating each other for five years.(There is also a lull in their sexual relations.) Alice recognizes her lack of sexual experience and that this might be her last chance to have random sexual encounters before she marries(like that would stop anything...), so she suggests her and Ed should see other people. Ed reluctantly agrees.[/font] "Seeing Other People" is a tired, unfunny, predictable comedy that supposedly comes down on the side of monogamy but is also strangely less than thrilled with marriage.(Ed and Alice are probably happy until they got engaged and there is not a happily married couple around for miles. All of which brought back unhappy memories of "The Last Married Couple"(1980) starring Natalie Wood and George Segal.) But Julianne Nicholson does have an awkward sort of charm; Jay Mohr deserves better; and Lauren Graham should do amusingly illegal things to her agent for getting her parts in garbage like this. And could somebody please explain why Andy Richter was given his very own subplot?
Seeing Other People Quotes
There are no approved quotes yet for this movie.