Shade
(2003)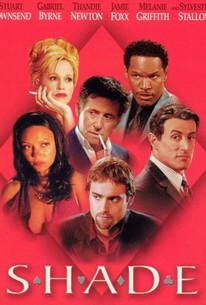 Movie Info
The first film from real-life card shark Damian Nieman, who wrote and directed the picture, stars Gabriel Byrne, Thandie Newton, and Stuart Townsend as a trio of con-artists looking to make a big score. With the help of The Dean (Sylvester Stallone), the three pull off a grift that makes them all very rich. Unfortunately, the original owners of the dough aren't exactly pleased and are out to get the money and revenge. Shade premiered at the 2003 CineVegas film festival and also stars Jamie Foxx and Melanie Griffith.
News & Interviews for Shade
Audience Reviews for Shade
Another forgotten Stallone film, This time it's about card griffting and even though it can be hard to keep up with who's on who's side even in the end we're still not sure, The card games were pretty good and there's about 3 twists that kept the film fresh, We expect twists in films like this so they weren't a big suprise but it's pretty good but nothing new.
Jamie Clarke
Super Reviewer
When gambling your life, leave nothing to chance.
½
A swift, smart and wickedly entertaing crime thriller. Tense, clever and really cool. Teriffically funny and suspensful. Great twist and turns that never let up. Lot's of fun and enjoyment. A con you cant help but get caught up in. The cast is brilliant. Stuart Townsend, Thandie Newton and Gabriel Bryne are sizzeling. The three actors have great chemistry. Sylvester Stallone is teriffic. One of his best performances in years. It has the flash and cash to keep up.