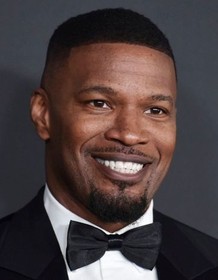 Jamie Foxx
Highest Rated: 100% Hitsville: The Making of Motown (2019)
Lowest Rated: 13% Stealth (2005)
Birthday: Dec 13, 1967
Birthplace: Terrell, Texas, USA
First discovered by audiences as a confident, fresh-faced comic who was proficient at playing outrageous characters and sending up famous celebrities, actor Jamie Foxx cut his teeth on the small screen when he joined the popular television sketch comedy, "In Living Color" (Fox, 1990-94) after its first season. Not satisfied with being confined to strictly comedy, Foxx surprised many when he began displaying considerable talents both as a dramatic actor and as a classically trained musician. He offered glimmers of things to come with a strong performance in "Any Given Sunday" (1999), which allowed him to show off the gridiron prowess he developed as a star high school quarterback. While he continued to perform stand-up comedy in several cable specials, Foxx reached the top of his career with a defining and unforgettable performance as music legend Ray Charles in the biopic, "Ray" (2005), which earned Foxx the best notices of his career and an Academy Award. Foxx continued to surprise audiences with action movies like "The Kingdom" (2007), heartrending dramas like "The Soloist" (2009), wild genre films like "Django Unchained" (2012) and stylish action comedies like Edgar Wright's "Baby Driver" (2017), all of which reminded people that Foxx would not be easily defined. Behind the scenes, he served as executive producer of a sitcom based on his own early stand-up career, "White Famous" (Showtime 2017- ).
Photos
RAY, Jamie Foxx, 2004, (c) Universal
MIAMI VICE, Jamie Foxx, 2006, © Universal
ANY GIVEN SUNDAY, Dennis Quaid, Jamie Foxx, Al Pacino , 1999. ©Warner Bros..
ANY GIVEN SUNDAY, Jamie Foxx, 1999
DREAMGIRLS, Jennifer Hudson, Jamie Foxx, 2006. ©DreamWorks
VALENTINE'S DAY, front, from left: Jessica Biel, Jamie Foxx, 2010. ph: Ron Batzdorff/©New Line Cinema
RAY, Regina King, Jamie Foxx, 2004, (c) Universal
RAY, Jamie Foxx, 2004, (c) Universal
BREAKIN' ALL THE RULES, Jamie Foxx, 2004, (c) Screen Gems
COLLATERAL, Tom Cruise, Jamie Foxx, 2004, (c) DreamWorks
Annie
MIAMI VICE, Jamie Foxx, Colin Farrell, 2006, (c) Universal
ROBIN HOOD, FROM LEFT: TARON EGERTON AS ROBIN HOOD, JAMIE FOXX AS LITTLE JOHN, 2018. PH: ATTILA SZVACSEK/© LIONSGATE
JARHEAD, Jamie Foxx, 2005, (c) Universal
RAY, Jamie Foxx, Kerry Washington, 2004, (c) Universal
LAW ABIDING CITIZEN, from left: Emerald-Angel Young, Jamie Foxx, 2009. ph: John Baer/©Overture Films
DJANGO UNCHAINED, Jamie Foxx, 2012. ph: Andrew Cooper/©Weinstein Company
MIAMI VICE, Colin Farrell, Jamie Foxx, 2006, © Universal
THE KINGDOM, Jennifer Garner (left background), Jamie Foxx (crouching), 2007. ©Universal Pictures
THE SOLOIST, from left: Robert Downey Jr., Jamie Foxx, 2009. PH: Francois Duhamel/©DreamWorks SKG
Filmography
Movies
TV
Credit

29%

31%

Alert: Missing Persons Unit
Executive Producer

2023-2024

No Score Yet

No Score Yet

We Are Family
Executive Producer

2024

No Score Yet

No Score Yet

Beat Shazam
Executive Producer,
Host

2017-2019

2021-2023

No Score Yet

38%

Jimmy Kimmel Live!
Music Performer,
Guest

2007

2009

2011-2015

2017-2022

No Score Yet

No Score Yet

Million Dollar Wheels
Executive Producer,
Self

2022

No Score Yet

No Score Yet

Clive Davis: The Most Iconic Performances
Self

2022

No Score Yet

No Score Yet

The Ellen DeGeneres Show
Music Performer,
Guest

2011-2012

2014-2015

2017-2018

2020-2021

No Score Yet

20%

The Late Late Show With James Corden
Guest

2017

2021

No Score Yet

No Score Yet

Nick Cannon
Guest

2021

No Score Yet

47%

The Tonight Show Starring Jimmy Fallon
Music Performer,
Guest

2014-2015

2017-2021

25%

47%

Dad Stop Embarrassing Me!
Brian Dixon (Character),
Executive Producer

2021

No Score Yet

No Score Yet

The Graham Norton Show
Guest

2014

2017

2020

No Score Yet

41%

The Masked Singer
Guest

2020

No Score Yet

No Score Yet

Close Up With The Hollywood Reporter
Guest

2020

No Score Yet

50%

The Late Show With Stephen Colbert
Guest

2018-2019

No Score Yet

No Score Yet

30 for 30
Narrator

2019

No Score Yet

87%

Comedians in Cars Getting Coffee
Guest

2019

76%

60%

Neo Yokio
Unknown (Guest Voice)

2018

No Score Yet

No Score Yet

Carpool Karaoke: The Series
Music Performer

2018

No Score Yet

No Score Yet

SafeWord
Contestant

2018

No Score Yet

No Score Yet

Jay Leno's Garage
Guest

2018

53%

75%

White Famous
Jamie Foxx (Guest Star),
Executive Producer

2017

100%

80%

Jackie Robinson
Jackie Robinson (Voice)

2016

68%

No Score Yet

American Idol
Music Performer,
Guest

2010-2011

2015

No Score Yet

No Score Yet

106 & Park
Unknown (Character)

2013

2015

100%

90%

Late Show With David Letterman
Guest

2014

No Score Yet

No Score Yet

Apollo Live
Executive Producer

2012

2014

No Score Yet

58%

Saturday Night Live
Host

2000

2012

No Score Yet

No Score Yet

In the Flow With Affion Crockett
Executive Producer

2011

No Score Yet

No Score Yet

Lopez Tonight
Guest

2009-2011

31%

No Score Yet

The Jay Leno Show
Guest

2009

No Score Yet

No Score Yet

Sesame Street
Unknown (Guest Star),
Guest

2006-2007

No Score Yet

No Score Yet

The Daily Show With Jon Stewart
Guest

1999-2001

2004

2007

No Score Yet

No Score Yet

Late Night With Conan O'Brien
Guest

2007

No Score Yet

No Score Yet

The Jamie Foxx Show
Jamie King (Character),
Executive Producer,
Director,
Producer

1996-2001

No Score Yet

No Score Yet

Moesha
Unknown (Guest Star)

1996

No Score Yet

No Score Yet

Hangin' With Mr. Cooper
Unknown (Guest Star)

1996

No Score Yet

No Score Yet

In Living Color
Unknown (Character)

1991-1994

No Score Yet

No Score Yet

Def Comedy Jam
Host