Shah-re ziba (The Beautiful City)
(2004)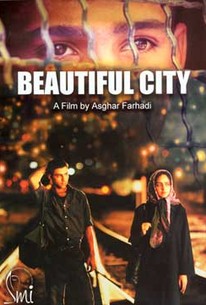 Movie Info
A complex web of emotional and legal issues is being spun around a young man on death row in this drama from Iran. Akbar (Hossein Farzi-Zadeh) murdered his girlfriend when he was 16 years old; now that he's 18, he's being transferred from a facility for juvenile offenders to an adult prison, where he'll wait until his death sentence is carried out. However, no one is sure when that will be, because Akbar's father is required to pay "blood money" to Rahmati (Faramarz Gharibian), the father of the slain girl, and he hasn't been able to come up with the cash. Akbar's sentence could be commuted to life imprisonment if Rahmati would be willing to forgive him, and A'la (Babak Ansari), a friend of Akbar who has recently been released from jail, wants to persuade Rahmati to give the young man a second chance. A'la asks Firoozeh (Taraneh Alidoosti), Akbar's sister, for help, but she's already tried to intercede on his behalf, with no success, and is busy looking after her husband, a drug addict who sells dope to support his habit. A'la turns to Rahmati's wife (Ahoo Kheradmand), who has a more merciful nature, and suggests a way out of the dilemma. Rahmati's younger daughter is ill, and needs medical treatment the family cannot afford -- if A'la and Firoozeh can come up with the money for the doctors, Rahmati may be willing to forgive and forget. Beautiful City (aka Shahr-e Ziba) was the second feature film from writer and director Asghar Farhadi. ~ Mark Deming, Rovi
Critic Reviews for Shah-re ziba (The Beautiful City)
Audience Reviews for Shah-re ziba (The Beautiful City)
[font=Century Gothic]In "Beautiful City", Akbar(Hossein Farzi-Zadeh) has just turned 18 which should be cause for celebration but is not since he is serving time for killing his girlfriend in a botched murder-suicide and is now eligible for the death penalty. His pal in the juvenile detention center, A'La(Babak Ansari), seeks early release to plead his case and finds the easiest way is to start behaving himself. Upon release, he plans to go with Akbar's sister, Firoozeh(Taraneh Alidoosti), to ask the victim's father, Abolghassem(Faramarz Gharibian), for his consent in commuting the sentence. She has already made her case, only to be punched in the face for her trouble. The father is getting tired of the constant petitions, so he asks the court if there is any way to speed up the proceedings. There is if he is willing to pay blood money to make up the cost between the woman who was killed and the man who will be executed.[/font] [font=Century Gothic][/font] [font=Century Gothic]"Beautiful City" is a very effectively told tale, not only about how women are treated in Iran but universal themes including forgiveness, vengeance and the death penalty. My only complaint about the movie is that it does tend to get confusing in the second half when different offers are made. Plus, it was a little hard at times trying to understand the labyrinthine Iranian judicial system. [/font]
½
At first, the film's set-up was primitive, and there seems to be no importance on the crime itself. The lead characters all claim that their friend, a murderer, "doesn't deserve to die", but this was never proved, why. But as the film proceeds, it becomes clear that this is not the point: instead we see how the final verdict was put in the hands of the dead girl's father,.The Killer fate is passed now onto those, the father and also those who must plead with him for clemency. The father who still could not deal with his grief. The film's represented also the role of women in an Islamic society, which was also sensitive and interesting to see. The abrupt ending concludes a quiet tragedy that delivers more than is promised at the start. Thank you my friend for this good movie recommendation, most movies of Iran showed till now, not to be disappointed.
Daisy Maduro
Super Reviewer
½
This Iranian foreign movie was very touching! I never thought I would ever feel compassion for a murderer but this movie made me see how a lack of forgiveness can ruin your life. My eyes were glued to the TV screen the entire time, as I didn't want to miss a word. I really wanted to see a more definitive ending, though. Did Akbar get executed? Did his friend marry Akbar's sister?
Shah-re ziba (The Beautiful City) Quotes
There are no approved quotes yet for this movie.