Shonen (Boy)
(1969)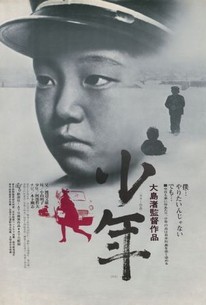 Movie Info
A family of four lives off of scams in which they pretend to be injured by automobiles. After suffering an injury during the war, the father believes he is an invalid. He and his wife have a 10-year-old boy and a 3-year-old girl. The adults pretend to be injured by autos in crowded traffic, blackmailing the fearful motorists with threats to call in the police. When the mother becomes pregnant, the young boy is called on to participate in the schemes. The wife promises her husband she will get an abortion but soon changes her mind without telling him. One motorist welcomes police intervention after an incident, frightening the father that his scam will be exposed. They live in separate hotels until the coast is clear, but the young boy is questioned by police. He maintains his silence as he fears his family will be put in jail in this symbolic drama. ~ Dan Pavlides, Rovi
Cast
Critic Reviews for Shonen (Boy)
Audience Reviews for Shonen (Boy)
"Shonen" disappointed me. A con-artist family -- father, mother and two young sons (only one of whom is the woman's) -- struggles to survive across a variety of Japanese cities. The father dubiously claims to be a war-wounded invalid unable to hold a normal job, so the mother and older, titular son solicit funds by artfully throwing themselves into the sides of passing cars and feigning injury. The drivers inevitably offer the family money, to hush up the accident and avoid police involvement. But tensions persist within the family, due to fears about being captured and the father's brutish nature. The film just wanders on, repeating this same scenario. The cast lacks charisma, and the boy isn't much of an actor (his "crying" is particularly suspect). Very little story development occurs until the final 15 minutes or so. This was not the heart-tugging tragedy which I anticipated.
Eric Broome
Super Reviewer
Shonen (Boy) Quotes
There are no approved quotes yet for this movie.
Discussion Forum
Discuss Shonen (Boy) on our Movie forum!