Shonen (Boy)
(1969)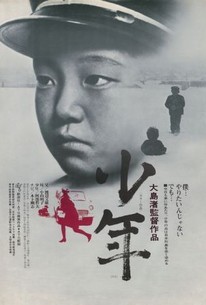 Movie Info
A family of four lives off of scams in which they pretend to be injured by automobiles. After suffering an injury during the war, the father believes he is an invalid. He and his wife have a 10-year-old boy and a 3-year-old girl. The adults pretend to be injured by autos in crowded traffic, blackmailing the fearful motorists with threats to call in the police. When the mother becomes pregnant, the young boy is called on to participate in the schemes. The wife promises her husband she will get an abortion but soon changes her mind without telling him. One motorist welcomes police intervention after an incident, frightening the father that his scam will be exposed. They live in separate hotels until the coast is clear, but the young boy is questioned by police. He maintains his silence as he fears his family will be put in jail in this symbolic drama. ~ Dan Pavlides, Rovi
Rating:
PG-13
Genre:
,
Directed By:
In Theaters:
Runtime:
Cast
Critic Reviews for Shonen (Boy)
Audience Reviews for Shonen (Boy)
½
Considered part of the "new-age" films made in the 1960's, this movie evetually exposes the concept of culpability - and conscience.
Christopher Bergan
½
Shonen (Nagisa Oshima, 1968) I am never sure how I feel about Nagisa Oshima movies (save his final film as I write this, Taboo; I don't think it's possible to put both Takeshi Kitano and Tadanobu Asano in a movie and not achieve greatness). Shonen is no exception to the rule. It is undeniably brilliant in so many ways, but in some ways it has always seemed to me that Oshima's obsession with the prurient kept him from fulfilling the ultimate potential of many of his films. (Note, since I've already mentioned it, how much more restrained Taboo is than most of his more well-known films.) Visually stunning, subtle (when it's not over the top), with top-notch acting and direction, and yet the movie reminds me of that hoary old clichà (C) about vast stretched of boredom punctuated by moments of sheer terror. The title character (Tetsuo Abe, who never acted again; he later had a short career as a screenwriter) is the older son in a very odd family. The father (Fumio Watanabe from the Lone Wolf and Cub and Scorpion: Female Prisoner #41 franchises) is a layabout who forces his wife, Boy's stepmother (Akiko Koyama, who would team up with Oshima again eight years later for In the Realm of the Senses), to throw herself into the paths of cars so Father can extort money from the drivers who caused the âaccidentsâ?. Boy also has a little brother (Tsuyosi Kinoshita, who also never acted again), and the two of them bond over Boy's stories about Andromeda, a superhero he's conjured from the depths of his subconscious. In any case, all goes well (âwellâ? is not the word, but you get it) until one of Mother's faked accidents hits a little too close to home, laying her up for a while; immediately, Father presses Boy into taking over the role despite his tender age. But this is just the tip of the iceberg in this labyrinthine (and fact-based) meditation on the dynamics of damaged families. Despite this movie being overplotted, with a few exceptions, not much actually goes on here. On one hand, that allows some of the subtler moments to shine through in ways that they normally don't in bigger, louder films. On the other hand, boredom is an almost constant companion. You can deal with it by shutting off your brain for long stretches and just enjoying the beauty of the film, which is undeniable from front to back, as it always is in Oshima's films. This will help during the scenes which feel especially out of place, the ones that jar the senses and make you wonder why they exist. (The answer, of course, is Oshima's aforementioned obsession with prurience.) I still don't know quite how I feel about it. How many years has it been since I saw In the Realm of the Senses? I still don't know how I feel about that one. I don't expect to be forming strong opinions on this one any time soon. But it's still gorgeous and perfectly-acted, and if there's no other reason to watch it, that will do. Check it out, though if you're new to Oshima, watch Taboo first. **  1/2
Robert Beveridge
"Shonen" disappointed me. A con-artist family -- father, mother and two young sons (only one of whom is the woman's) -- struggles to survive across a variety of Japanese cities. The father dubiously claims to be a war-wounded invalid unable to hold a normal job, so the mother and older, titular son solicit funds by artfully throwing themselves into the sides of passing cars and feigning injury. The drivers inevitably offer the family money, to hush up the accident and avoid police involvement. But tensions persist within the family, due to fears about being captured and the father's brutish nature. The film just wanders on, repeating this same scenario. The cast lacks charisma, and the boy isn't much of an actor (his "crying" is particularly suspect). Very little story development occurs until the final 15 minutes or so. This was not the heart-tugging tragedy which I anticipated.
Eric Broome
Super Reviewer
Discussion Forum
Discuss Shonen (Boy) on our Movie forum!