Silence
(2017)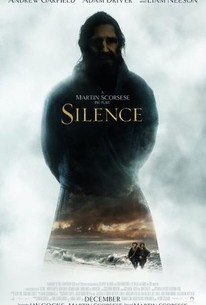 TOMATOMETER
AUDIENCE SCORE
Critic Consensus: Silence ends Martin Scorsese's decades-long creative quest with a thoughtful, emotionally resonant look at spirituality and human nature that stands among the director's finest works.
Movie Info
Martin Scorsese's SILENCE tells the story of two Christian missionaries (Andrew Garfield and Adam Driver) who face the ultimate test of faith when they travel to Japan in search of their missing mentor (Liam Neeson) - at a time when Christianity was outlawed and their presence forbidden. The celebrated director's 28-year journey to bring Shusaku Endo's 1966 acclaimed novel to life will be in theaters this Christmas.
News & Interviews for Silence
Critic Reviews for Silence
Audience Reviews for Silence
A nearly three-hour movie about Portuguese Jesuit priests facing persecution in 17th century Japan and struggling with the personal demands and costs of their faith sounds like a hard sell for your casual moviegoer. It may seem even stranger coming from the likes of director Martin Scorsese. This is a deeply personal film and perhaps the greatest movie about the nature of spiritual faith, both good and bad, I've seen. Two priests (Andrew Garfield, Adam Driver) sail to Japan in 1635 to find their mentor after hearing he has renounced his ties to Christianity and taken up a Japanese wife. Christianity has been outlawed and those caught practicing the religion can be turned in for 100 pieces of silver, and a priest for 300 pieces. The repression forces Christian converts to make difficult choices, especially when their refusal to recant their faith causes suffering for others. The Inquisitor (Issei Ogata) is a fascinating figure who argues that these misplaced missionaries never understood Japanese culture and that this foreign religion simply cannot flourish. The meaning of individual faith is explored beautifully with existential highs and lows. When the priests come across a village of secretly practicing Christians, it's a powerful example of the goodness of faith, as these people are nourished body and soul, empowered. They can also finally confess their sins and garner a clean slate. However, much of the film is about the internal struggle to retain one's faith in the seeming absence of confirmation. The priests are eventually caught and ordered to apostate, and their ongoing refusals are met with harder and harder challenges to bear. It's an ongoing process for many people to square the concepts of a loving God and the horrors and general torment that do not merit said God's intervention. At one point one of our priests, shaken by his experiences, asks if he is merely praying to silence. In some regard, I think the movie is about coming to terms with the fact that faith is often a relationship with a silent partner. Silence may be the greatest spiritual epic about doubt. It feels like a thriller at times and also the most Christian movie at other times. It puts the simplistic tripe starring the likes of Kirk Cameron to shame. Scorsese's camera is unmistakably his and the movie is often dazzling to just experience. The pacing is very much a slow burn but the historical context felt increasingly intriguing for my tastes. Ogata is the real star of the movie, embellishing his antagonist with a magnetic power. Every time he was off screen I wished for his return. Silence is not going to be a movie for everyone or for many. It's too long and airless, but it's a deeply serious, deeply meditative, and deeply searching film about the power of belief and the price we pay to hold on. Nate's Grade: B+
Nate Zoebl
Super Reviewer
½
We're lucky to have this film in theaters. Martin Scorsese worked to get it made for close to 30 years. While I can't fault the importance or overall uniqueness, the final product isn't exactly the easiest to connect to. Scorsese makes notoriously long epics. Most of the time, I enjoy the length and they can even leave me wanting more. The man is just that good at filmmaking. He's also consistently produced some of the most memorable scripts, whether they're written by him or someone else, over the last several decades. Silence contains some 'best of' Scorsese for sure; including a maniacal but fleshed out antagonist, several brutally relentless scenes, and some magnificent performances. But I'm not sure this ranks near a top 10 list for his career as an overall feature. Not starring Leonardo DiCaprio nor Robert De Niro, Scorsese got Andrew Garfield, Adam Driver, and Liam Neeson to head this historical epic dealing with two Jesuit priests and their trek to find their mentor in faith, who they refuse to believe has apostatized. Especially during a time when Christianity was banned in Japan, this voyage is a fascinating trial of faith and reserving what you believe in, even if it means torture or death. A similarly themed movie, Hacksaw Ridge, also starring Andrew Garfield was released earlier this year. Both movies are well-made, brilliantly acted (although I think Garfield was better in Hacksaw), gorgeously shot, and portrayed thought provoking themes and ideas throughout. With that said, I don't think Silence is as interesting as it could have been. With a glaringly slow pace, by the end of the film you are so drained with the experience of these two priests that it's hard to want to spend any more time thinking about the story at hand. I also found it a little difficult to connect to the characters, because of how far we are removed from that time-period. Some can certainly say that some of the same belief issues are going on in today's world, which is fair, but the aesthetic of mid 1600's Japan felt very separated from our world. Which I guess, can also be contributed as a compliment to Scorsese's ability to transport you to a different era via set design and cinematography. I liked Silence. I think it brings up interesting questions involving faith and showcased what was once a world torn by religion pretty flawlessly. I just wish it was easier to connect with the characters, the run-time cut down, and the pacing be picked up. +You get a feel for what this world was like to live in +Fascinating themes +Brutal -Slow burn -Besides a few memorable scenes, the characters needed to be easier to connect to 7.3/10
Thomas Drufke
Super Reviewer
After seeing the Amazing Spiderman run, I never thought that I would see Andrew Garfield in the type of acting he has had recently (first in Hacksaw Ridge and now this). The acting from every single character in this film is amazing. This film is emotional and shows a very clear picture of the persecution of Christians (this time in 17th century Japan). The great thing about this film, however, is that it doesn't portray the feudal lords as heartless antagonists but as people who are trying to protect their culture and drive out colonial ideals. To see faith so adamantly adhered to with devotion and not violence is something that is so important today. The only knock against this film is that it can see very slow building and like the title states, there's plenty of Silence as there is no score for the film (not even during the credits). It is a powerful film. If you are expecting anything like Last Samurai or a film with action in it, you should probably stay home. But if you want a case study in superb character development and acting, check this one out.
Patrick Wrye
Super Reviewer
Silence Quotes
There are no approved quotes yet for this movie.
Discussion Forum
Discuss Silence on our Movie forum!