Silence
(2017)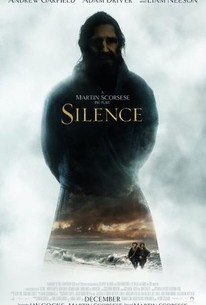 TOMATOMETER
AUDIENCE SCORE
Critic Consensus: Silence ends Martin Scorsese's decades-long creative quest with a thoughtful, emotionally resonant look at spirituality and human nature that stands among the director's finest works.
Movie Info
Martin Scorsese's SILENCE tells the story of two Christian missionaries (Andrew Garfield and Adam Driver) who face the ultimate test of faith when they travel to Japan in search of their missing mentor (Liam Neeson) - at a time when Christianity was outlawed and their presence forbidden. The celebrated director's 28-year journey to bring Shusaku Endo's 1966 acclaimed novel to life will be in theaters this Christmas.
News & Interviews for Silence
Critic Reviews for Silence
Audience Reviews for Silence
I've always had mixed feelings about Martin Scorsese. I've found his older movies overrated, and most of his recent entries to be anywhere from great to incredible. Unfortunately, Silence falls well below his modern standards. Clocking in at 2 hours and 40 minutes, it's drastically overlong and most of the material is dry. For a film tackling such a daring subject, there are almost no twists or exciting moments, and finds itself moving in an extremely slow and restrained pace. This is a problem for a film as long as Silence because it almost put me to sleep. Andrew Garfield is excellent in the lead but Liam Neeson is very oddly cast as an elder priest. There are also a few very odd scenes littered throughout. One for example, is when a character is contemplating officially renouncing his faith as a Christian, and God literally speaks to him and tells him to go ahead and do it. It's a creative choice that I think stuck out like a sore thumb in a film that's so restrained and subtle. I respect Scorsese for bringing loyalty to religion to the big screen, but it ended up being, for the most part, a dud.
Kevin Mozulay
Super Reviewer
Back in the day when films like Ben-Hur or The Bridge on the River Kwai were the films to top the box office, sweeping epics were the box office gold that studios were looking for. That style of filmmaking just doesn't seem to be around very much anymore, at least in big-budget productions. Having said that, Martin Scorsese has been working on making Silence a reality for quite some time now, and in my opinion, whether or not this film crushes at the box office or not, this truly is a display of incredible filmmaking that shouldn't be missed. There is a reason it gained so much buzz around the festivals it played at, due to the fact that it's another near masterpiece from director Martin Scorsese. Here is why Silence is one of the best films of 2016. From the few opening scenes, it was clear that this film was going to provide as much hope as possible. Following two priests who travel to Japan in search for their mentor, Father Ferreira, they also hope to promote the Catholic religion. In doing so, they are exposed to the harshness of Buddhism and must hide from or succumb to their ways. Throughout the first act of Silence, it makes it seem as though it will be an incredible journey of discovery, with a large amount of hope that they will be able to find their mentor and bring him home. Instead, these two men are forced to hide, held up in jail cells, made to watch beheadings, and suffer more spiritually than physically. In this incredibly heartbreaking story, it is these two men, Rodriguez (Andrew Garfield) in particular, who help to restore the faith in the audience. Martin Scorsese directs this religious epic in a way that feels very classic, almost like Bergman or Welles. Silence marks his 25th directorial effort, and it may very well rank among the very top of his work. Not showing any signs of fatigue as far as his filmmaking styles go, he is proving himself to be someone worth following for at least another decade or more. His autueristic feel throughout most of his films does seem to be slightly absent here, but he does also seem to be taking pointers from classic directors from the beginning of cinema. I absolutely loved every second of his work here and his screenplay, along with writer Jay Cocks was astounding. The one thing that every moviegoer should be hoping for when going to the cinema, is that there are no scenes that pad out the run time for the sake of making a film longer. When you can have every single scene move your story forward and believable, then you truly have a great film on your hands. Silence does exactly that and then some. Even in the moments where characters are sitting in a room talking for over ten minutes, almost every line of dialogue is necessary for the story at hand. I found myself completely engrossed in every moment. Andrew Garfield, with the company of Adam Driver, give terrific performances, making this tale much more gut-wrenching in the final act. This truly is a film about acceptance and it rarely every has any signs of joy. Silence is a lot to take in, but its slow burn is exactly what it needed. I was able to put my mind at ease and relax, while it still kept me on the edge of my seat. In the end, what I feared going into this film was completely abolished about five minutes in, so I truly had no complaints coming out of this picture. I worried about it wanting to preach the Catholic religion too much, not making it accessible for other religions to watch. That being said, although it does start out that way, it's also a big reality check that some people are just cruel in this world and there is no fixing that. There is much more to this film than just wanting to preach about religions. Martin Scorsese has crafted another near-masterpiece in my opinion and it's not just meant for a specific audience. Any adult should be able to view this film and appreciate the messages throughout. With an amazingly composed score, direction that is out of this world, performances that may just have you in tears, and a story that works for the entire duration of this near 3-hour epic, Silence is one of the best films to come out of 2016. As long as you have time on your hands, I highly recommend checking out Silence. I loved every frame. Scorsese has done it again!
Here we have it, a film I've been anticipating for months, from visionary, genius director Martin Scorsese. Silence tells the story of two Jesuit priests, portrayed by Andrew Garfield and Adam Driver, searching for their teacher and mentor, portrayed by Liam Neeson, in 1600's Japan, a place where Christians were persecuted with extreme prejudice. The film explores the suffering and extremities experienced by the Christians of the era, as well as spirituality on a deeper level. Scorsese takes these aspects to craft an emotional, beautiful journey. The most obvious things about Silence to be discussed are the acting talents employed in the film and the famous Scorsese directing that movie-goers have come to love. So, let's start by talking about Andrew Garfield, because, holy crap, this man is AMAZING in the movie. Garfield has, time and again, proven himself to be an awesome actor (most recently with Hacksaw Ridge, or so I've heard), and nothing is different here. I've never seen emotion of this scope portrayed this beautifully by anyone before. In moments of happiness, overwhelming grief, unbearable stress, or breathtaking awe, Garfield takes these emotions and hands them directly to the audience, making them feel those exact things. The man definitely deserves an Oscar nomination at the LEAST for his performance, and I'll be shocked if he isn't awarded that. The other performances are great as well. And while Neeson and Driver aren't as prominent in the film as Garfield, they still deliver riveting performances. The rest of the supporting cast delivers memorable acting as well, creating impactful scenes and conveying intense emotion. Another thing that stood out throughout Silence was the cinematography and scenery. Of course, it's hard to go wrong with shots of the Japanese forests, mountains, and countrysides, but they are employed expertly by Scorsese. And, for that reason, "beautiful" is an accurate word used to describe the movie. The most affecting part of the film, however, is the exploration of spirituality and dedication. Silence focuses heavily on Christianity (specifically the Jesuit order of Catholicism) and how beautiful it is, especially how compassion can impact other people and save lives on both a physical and a spiritual level. The way it explores human nature is fascinating, emotional, and amazing. It requires a very particular mindset and openness on the part of the viewer, since the film drags on extensively otherwise. Unfortunately for myself, I went into the theater believing Silence was shorter than it was (silly on my part, considering it's a Scorsese film), so, at times, it seemed very slow and I felt it could have conveyed its message significantly quicker. However, the way the film wraps up forgives those weaknesses for the most part and leaves viewers in deep thought after its conclusion. Silence is a thought-provoking, spiritual, emotional film experience, one that Scorsese assembled masterfully. As I mentioned earlier, the acting in the film is Oscar-worthy, and the shots and cinematography are gorgeous. And while it dragged on for me upon first viewing, I'm very willing to watch it again and see how much more I enjoy it the second time around. I can't explain the feelings brought about by Silence very thoroughly without spoiling things (and, frankly, it would be nearly impossible to explain that), and I appreciated the film especially due to my experiences from an amazing Jesuit high school. Silence is a great film, and it gets 4 stars.
Paul Fuchs
Super Reviewer
Silence Quotes
There are no approved quotes yet for this movie.
Discussion Forum
Discuss Silence on our Movie forum!