Sleeping with Other People
(2015)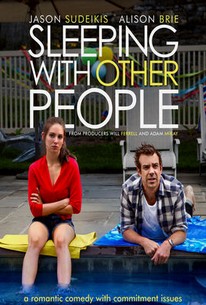 TOMATOMETER
AUDIENCE SCORE
Critic Consensus: Sleeping with Other People has likable leads and flashes of inspiration, but seems unwilling or unable to surround them with the truly subversive rom-com they deserve.
Sleeping with Other People Videos
Sleeping with Other People Photos
Movie Info
Jason Sudeikis and Alison Brie star as two romantic failures whose years of serial infidelity and self-sabotage have led them to swear that their relationship will remain strictly platonic. But can love still bloom while you're sleeping with other people? Writer/director Leslye Headland's (Bachelorette) sexy romantic comedy co-stars Amanda Peet, Adam Scott, and Natasha Lyonne. (C) IFC
News & Interviews for Sleeping with Other People
Critic Reviews for Sleeping with Other People
Audience Reviews for Sleeping with Other People
I feel like I wasted my time on this one. Extremely b grade, and not in a good way.
Nicki Marie
Super Reviewer
One of those movies, like "Friends With Benefits," that purports to break romcom genre conventions...and it does...quite wonderfully for a minute...then kinda weirdly for an unnecessarily large part of the film. Alison Brie and Jason Sudeikis play platonic besties to charmingly drugged effect. That moment when they admit to themselves that they're in perfect, agenda-less love with each other is so achingly beautiful, and it's such a waste that *spoilers (but as if you couldn't see it coming)* they end up together like every other Harry and Sally pairing instead of making good on the movie's second act premise that all Lainey and Jake want from their friendship is to teach each other how to love. The other plot point that tries to break genre is Lainey's addictive and abusive relationship with creepy doctor Matthew played by Adam Scott in over-stoic mode, which worked really well for his dramatic performance in "The Vicious Kind," but here, just smacks of a nothing character. Maybe that's who Matthew is, but there's gotta be a hint as to why Lainey was so obsessed for so much of the movie. The tonal shift from dorm hijinx to emotional Stockholm Syndrome is just inconsistent, as is the brief glimpse of true pathos juxtaposed with the baity, sex-sells title.
Alice Shen
Super Reviewer
½
Quirky independent love stories usually can do no wrong, due to their very specific tone and story elements. Fans of this particular genre will always find enjoyment in any of these films. "Sleeping With Other People" is no exception to that statement. Having always been a fan of Alison Brie (from "Community") and Jason Sudeikis (from multiple comedies; ie. "Horrible Bosses"), I was very interested in checking this film out. Is the story strong enough to carry this picture? Are the characters compelling enough? Do them share great chemistry? Is the film well-written/directed? "Sleeping With Other People" follows Jake and Lainey. After losing their virginity to each other in college, they meet up seven years later and begin to share that same connection once again. Understanding that they both have feelings for other people as well, they try to stay very close friends, while still fooling around with other people. This premise works in cooperation with this films tone and while the main premise may not be wholly original, the dialogue they are given feels fresh enough to move the story along. The pacing of this film is great and I found myself buying into the connection they were able to have with their loved ones and friends that passed them by during the duration of this film. Although this film is very well-made for the most part, it is not without it's issues. The first two acts serve these two characters very well, showing that they have evolved quite a bit since the beginning of the film. I did not want to look away from the screen, as their chemistry was incredible. I never thought Jason Sudeikis and Alison Brie would have made a solid on-screen couple, but that just goes to show that anything is possible. Sadly, their relationship with each other and everyone around entered a state of flux by the third act. Writer/Director Leslye Headland is known for her very commendable script for "About Last Night," which I thorouhgly enjoyed, and while many aspects of that film shine through here, there is one thing she forgot to do, which is make the audience buy into the decisions being made by each character in the end. It felt a little rushed and there was definitely room for a bigger conclusion. "Sleeping With Other People" is easily recommendable in the sense that it is very well-performed and engrosses it's audience with it's quick wit and lovable cast. I really enjoyed watching this film, even though the third act takes a huge misstep. If you are a fan of romantic comedies or indie films in general, "Sleeping With Other People" may just be that solid little gem you have been searching for. Follow my reviews at: https://creators.co/@kjproulx
Sleeping with Other People Quotes
| | |
| --- | --- |
| Jake: | When you start sleeping with someone you risk losing them. |
| | |
| --- | --- |
| Jake: | You're a catch, you look great, a dynamite in a tank top. |
| | |
| --- | --- |
| Jake: | Can we please go home, dry each other off with friction? |
Discussion Forum
Discuss Sleeping with Other People on our Movie forum!