Son of a Lion
(2007)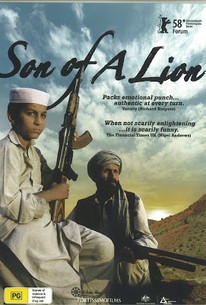 Movie Info
A sensitive adolescent being raised under strict Islamic law longs to get an education as opposed to fending off the infidels in this thoughtful meditation on post-9/11 Muslim society from Australian director Benjamin Gilmour. Sher Alam Afridi (Sher Alam Miskeen Ustad) is a widowed Pashtun and gunsmith who lives on the Northwest Frontier of Pakistan with his eleven year old son Niaz (Niaz Khan Shinwari). While Sher encourages his illiterate son to continue the family tradition of making guns, young Niaz just wants to go to school. Nevertheless, the dutiful youngster frequently runs errands that include purchasing hashish for his elderly grandfather, and relishes his visits with friendly local poet Agha Jaan (Agha Jaan) - who kindly reads Niaz the letters sent to the boy from his cousin Anousha (Anousha Vasif Shinwari) in Peshawar. Deciding that the only way out is to get an education, Niaz optimistically procures some school enrollment papers and approaches his open-minded uncle Baktiyar (Baktiyar Ahmed Afridi) for advice. Despite his best efforts, Anousha's father fails in convincing his brother to sign the documents. Later, after an explosive argument, Niaz runs away to Peshawar and sits outside the gates of the school in hopes that someone will take him in. ~ Jason Buchanan, Rovi
Critic Reviews for Son of a Lion
Audience Reviews for Son of a Lion
Shot in a relative secrecy in an area of Pakistan normally off limits to foreigners, Son of a Lion is a product of risky querrila filmmaking. Niaz is a young Pashtun boy whose father, Sher Alam, was a proud fighter in the Mujahidin insurgency against the Soviets and now works as a gunsmith. Although Niaz cannot read nor write at 11 years old, Sher Alam refuses to let him attend school--rather, he is determined that Niaz shall learn the family trade. Consequently, Niaz looks for role models among the more educated and artistic of his elders, much to his father's disapproval. Son of a Lion isn't immediately accessible. It's use of untrained actors and production values that are necessarily low-fi can be distracting and the main story is not compelling. It's only some way into the film that its gentle humurous qualities are revealed and the people and culture are rendered sympathetically. Again, due to restrictive shooting conditions, there is a distinct lack of female characters. This omittance leaves the film with an unbalanced aesthetic, with the masculine lean of the film enhanced by the craggy lanscape.
Cinema Films
Super Reviewer
Son of a Lion Quotes
There are no approved quotes yet for this movie.