The Spirit of St. Louis
(1957)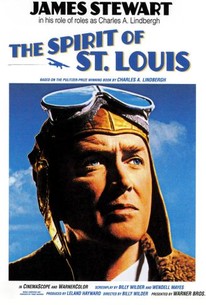 The Spirit of St. Louis Photos
Movie Info
James Stewart plays transatlantic pilot hero Charles Lindbergh.
Critic Reviews for The Spirit of St. Louis
Audience Reviews for The Spirit of St. Louis
Billy Wilder and James Stewart team-up to convey the excitement and achievement of Lucky Lindy's first trans-Atlantic flight. It's an uphill battle, what with the outcome being a given anymore, so the flight of endurance is peppered with anecdotal tales of Lindbergh's personal introduction to flight as well as how he was helped by many along the way. It's not very inspirational, the film, but the sense of how everyone shared in the feeling of accomplishment (such as when the Moon landing occurred) does come through. And Stewart delivers a bravura performance as America's Lone Eagle.
Kevin M. Williams
Super Reviewer
Director Billy Wilder puts on a showcase with this biopic of famous aviator Charles Lindbergh. Lindbergh's life, from his humble barnstorming days to his "welcome home" tickertape parade through the streets of New York City (where he was supposedly greeted by 4 million people), is represented through both flashbacks and linear storyline. Lindbergh, of course, was the first aviator to fly nonstop from New York to Paris, and in doing so, both cemented his place in history as well as forever changing the way we travel. Wilder employs many great techniques while telling Lindbergh's story, from the aforementioned flashbacks, to giving the audience a chance to listen in on Lindbergh's inner monologue (most particularly effective when Lindbergh is trying to get to sleep the night before the big flight). And it seems so effortless the way it's all blended together, like Wilder got a dose of Bergman before making the film. Jimmy Stewart plays Lindbergh effortlessly, despite being twenty years older than the man he was portraying at the time. Then again, Stewart often plays the same kind of role (not that there's anything wrong with that), so there's little in the way of surprises regarding the Lindbergh character. While this is a Lindbergh biography (somewhat), there's little attention paid to his life post-flight, whether it be his supposed nazi sympathizing or the kidnapping of his child in what was referred to as the "crime of the century", and rightly so. A film entitled "The Spirit of St. Louis" should be about the uplifting triumph of the human spirit over a great challenge, not some tabloid fluff. Stewart and Wilder manage to capture the "spirit" to which these endeavors were made. Good stuff.
Devon Bott
Super Reviewer
½
Billy Wilder's only Bio-Pic and directing of Jimmy Stewart is a nice change of pace. It's not his greatest film,but it is his best looking color film.Based on Lindbergh's autobiography it's about the preparation and flying across the Atlantic Ocean. Stewart Sells this film and Wilder comes up with interesting methods to keep the viewer from being bored. Some of the flashbacks are a little too aw...shucks,but some are really entertaing. Most of the flying footage is real and it looks great. I wish Wilder would have set a more claustrophobic mood ,because the sleep depravity works well .Enjoyable off the beaten path for Wilder and again it looks gorgeous.
cody franklin
Super Reviewer
The Spirit of St. Louis Quotes
There are no approved quotes yet for this movie.