Nora-neko rokku: Sekkusu hanta (Stray Cat Rock: Sex Hunter)
(1970)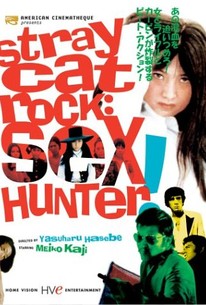 AUDIENCE SCORE
Critic Consensus: No consensus yet.
Nora-neko rokku: Sekkusu hanta (Stray Cat Rock: Sex Hunter) Photos
Movie Info
Yasuharu Hasebe returned to direct this second sequel to his Naraneko Rokku: Onna Bancho (1970). Meiko Kaji and her all-girl Alleycats biker gang are being wined and dined by some American soldiers when a racist gang called the Eagles -- whose leader's sister was once raped by a black G.I. -- vents their hatred by gang-raping a black girl. The victim's brother leads the Brats, an interracial gang. A bloody race war ensues between the Eagles and Brats, and the Alleycats are caught in the middle. Stark and unsettling, this teen-oriented Nikkatsu Studios entry is no West Side Story, brutally dealing with both prejudice and rape by American soldiers, which had been a theme in many Nikkatsu productions since Shohei Imamura's Buta to Gunkan (1961). Television star Rikiya Yasuoka co-stars in this action film with a message. Hasebe returned later the same year with Naraneko Rokku: Mashin Animaru. ~ Robert Firsching, Rovi
Critic Reviews for Nora-neko rokku: Sekkusu hanta (Stray Cat Rock: Sex Hunter)
Audience Reviews for Nora-neko rokku: Sekkusu hanta (Stray Cat Rock: Sex Hunter)
As i see more and more of this Japanese "sukeban" (bad girls) flicks i can't help to get more surprised of the wide range this films covered. Not only they saw the light way before their american counter-parts, they contained both a more edgy approach and a degree of social commentary, in one way or another. Of course, there are many of this films that suck as equally as some that were made in other parts of the world at that time. But still, they were in most cases years a head in both visual flavour and content. Stray Cat Rock:Sex Hunter! (say it loud) is a fine example of the genre. Plus, it has Meiko Kaji on the lead role, and you just can't say not to a woman like her, unless you want her to throw a molotov cocktail right when your having one of your boring snobish parties. I just hope they release all the other films of this franchise in R1 one day. The R2 box set has no english subs, as usual -_-
Tsubaki Sanjuro
Super Reviewer
½
Similar to the yakuza films of Seijun Suzuki, however, not nearly as highbrow. If you ignore the plot and watch the film as an exercise in style, you won't be bored. A feeling of claustrophobia may occur making a post-gangbang molotov attack seem even more intense. Featuring the goddess of vengeance Meiko Kaji of Lady Snowblood fame, Stray Cat Rock: Sex Hunter! is 3rd in a series of 5 films. A hard smack in the face that ends with some of the most brutal, unflinching yakuza-styled violence outside of Kinji Fukasaku's Battles Without Honor.
El Hombre Invisible
Super Reviewer
Nora-neko rokku: Sekkusu hanta (Stray Cat Rock: Sex Hunter) Quotes
There are no approved quotes yet for this movie.