Super Troopers 2
(2018)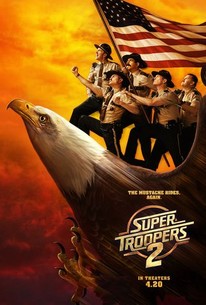 TOMATOMETER
AUDIENCE SCORE
Critic Consensus: Meow that the wait for Super Troopers 2 is finally over, all but the most devoted fans mustache themselves why they waited so long for such cruel and tragic shenanigans.
Movie Info
Everyone's favorite law enforcement team is back by popular demand with the long anticipated follow up to the cult comedy classic... SUPER TROOPERS. When an international border dispute arises between the U.S. and Canada, the Super Troopers- Mac, Thorny, Foster, Rabbit and Farva, are called in to set up a new Highway Patrol station in the disputed area. Unconventional police work follows, and the result is...SUPER TROOPERS 2.
News & Interviews for Super Troopers 2
Critic Reviews for Super Troopers 2
Audience Reviews for Super Troopers 2
I was one of the fans who handed money over for the crowd funding and I honestly thought the filmmakers might stick to the indie roots but sadly this is one belated sequel that was not required. The film does not have a voice or reason for existing, you can actually see why the studio was reluctant to back the film, the sequel is irrelevant and much like Dumb and Dumber Too, just not required. One of the biggest issues was the forced humour, you never feel the chemistry that made the original so much fun. I was waiting for this film to end, it just never feels at home like the first film and in places is yet another tired sequel attempting to recapture the same audience which has since moved on. The audiences showed up, mainly due to the devotion of the first film but sadly I was underwhelmed by this sequel. What could have been something original and clever, just comes across lazy and tiresome. Recycling jokes from the original was not an inspired choice and sadly this leaves a bad taste in the mouth. The filmmakers should have attempted to breath new life into the franchise after such a long time away, but instead they felt the need to repeat the first film. 12-078-2018.
Brendan Nicholls
Super Reviewer
½
The moment when we see Farva through heat vision goggles as he casually pisses and farts while yelling at the camera, "I'm still gonna go back and get that butter tart yule log!" is the hardest I've laughed in a long time.
Philip Price
Super Reviewer
A lot of people don't like the Eagles of Death Metal. I can't say I blame you if you aren't into tongue-in-cheek rock 'n' roll tropes or ass-backward conservative demagoguery in the wake of one of the most tragic terror attacks in the western world. I've been a fan of them since their inception in the obscure but quality Desert Sessions and rocked the "Live at Slims" bootleg that preceded their first official release "Peace Love Death Metal". I met Jesse Hughes and Dave Catching by chance about 10 years ago, and they were both funny, genuinely warm fellows. When the horrors of that fateful night at the Bataclan in Paris transpired, not even 9/11 had rocked my perception of the Earth and its horrifying goings-on to that degree. Both primary songwriters Hughes and Joshua Homme have since publicly proven themselves to be complicated and flawed individuals (some would say "douche bags"), but I try to divorce the art from the artist when it's more convenient for me. "Yay!" for double standards. See the documentaries The Redemption of the Devil and Nos Amis for an insightful before and after of Hughes, a man who was at the epicenter of that violence. He was always a little off, his mental and emotional state an eccentric tapestry painted by too many drugs and the archaic ideologies of mid-20th century America, ideologies held mostly by a demographic of people who would look down upon Hughes' lifestyle of rock star excess. If you can manage to get past his egregious pro-gun remarks after the Parkland school shooting or are un/fortunate enough to live in a political vacuum, at the heart of the music of Eagles of Death Metal is a manically stupid lust for life. It only makes sense that they would provide the soundtrack to an over-the-top, politically irreverent comedy about cops abusing their power in violent, illegal ways. In the same way that Hughes pines for the bygone days of Reagan, the Broken Lizard troupe cull from the bad 90's comedy movie playbook. There's gay-panic, transphobic gender politics, stupid accents, insensitivity towards First Nations people, puerile toxic masculinity, patriarchal wish-fulfillment, Rob Lowe, and, of course, the fat guy farts and falls down. Most of the humor feels lazy, many times forced, and occasionally in baffling poor taste, but I would be remiss if I didn't laugh at something about every five minutes. I suppose I'm an easy mark for low-brow humor and cringe-inducing pun play, but who doesn't appreciate a little slapstick from time to time? Maybe some of us are misreading the whole thing, like it's a critique on the police state, nationalistic isolationism, and hateful identity politics. I really doubt it though. This movie doesn't need to exist, but as the success of the nearly unprecedented crowdfunding venture facilitating it demonstrated, the fans wanted it. Now, think what you will of those fans, those people are going to get what they paid for. So, go ahead and avoid it like the plague if it doesn't sound like your bag and deride Broken Lizard for producing it. I have a feeling that despite Eagles of Death Metal and Super Troopers 2 gladly flopping on the wrong side of history, at least they're having a good time over there. However, everyone would be better off watching Wrong Cops by Quentin Dupieux instead.
K Nife Churchkey
Super Reviewer
Super Troopers 2 Quotes
There are no approved quotes yet for this movie.