Taipei Story (Qing mei zhu ma)
(1985)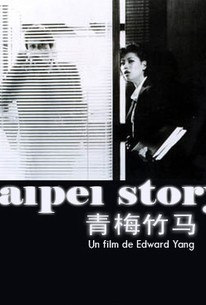 Taipei Story (Qing mei zhu ma) Photos
Movie Info
Lung, a former member of the national Little League team and now operator of an old-style fabric business, is never able to shake a longing for his past glory. One day, he runs into a forme teammate who is now a struggling cab driver. The two talk about old times and they are struck by a sense of loss. Lung is living with his old childhood sweetheart Ah-chin, a westernized professional woman who grew up in a traditional family. Although they live together, Ah-chin is always weary of Lung's past liason with another girl. After an argument, Ah-chin tris to find solace by hanging out with her sister's friends, a group of westernized, hedonistic youths.
Critic Reviews for Taipei Story (Qing mei zhu ma)
Audience Reviews for Taipei Story (Qing mei zhu ma)
½
yang's elegy for lost youth. wonderful storytelling and a touching performance by fellow director hou hsiao-hsien in the lead role
Stella Dallas
Super Reviewer
A bit rough around the edges and with a rather typical 'new wave' stylistic approach (elliptical storytelling, silences with 'meaning', focusing on boring everyday-life activities etc.). It anticipates the beautiful 'A One and a Two' in which this style of filmmaking has matured to a considerable degree. The thematic core of the two films seem to be the same also; the unfulfilled dreams in a life that covers everything under its dust of boredom and routine, and the failure of human contact in the modern city landscape.
George Matalliotakis
Super Reviewer
It doesn't infiltrate the instincts and yet,it meticulously progresses in an atomic bomb of emotions,Yang sweeps the field of urban melancholy,hiring Hou in an unconventional role,the circle of defeat is imminent and what's left is struggling to survive,amidst affairs,friends,nightclubs,shattered dreams...
Dimitris Springer
Super Reviewer
Taipei Story (Qing mei zhu ma) Quotes
There are no approved quotes yet for this movie.