The Tattooist
(2007)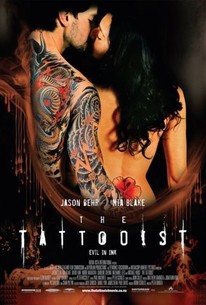 AUDIENCE SCORE
Critic Consensus: No consensus yet.
Movie Info
A talented tattoo artist (Jason Behr) discovers that his attempt to master the Samoan tatau tradition has awakened a vengeful supernatural force in a first-time feature filmmaker Peter Burger's New Zealand-based horror film.
Critic Reviews for The Tattooist
Audience Reviews for The Tattooist
The Tattooist is an elaborate and interesting horror yarn that unfortunately falls flat after the first forty minutes. The film fails to really be engaging because the performances given by the actors aren't that good. I think that's unfortunate because The Tattooist has got a very good idea for its plot. But unfortunately the film low budget prevents it from being elevated to a terrific horror film. Many previous horror films have had mediocre budgets, and they were able to pull off something frightening, unique and memorable on-screen. This film had a terrific idea and an elaborate plot, but it quickly lost its fire due to a not so good script. That's a real shame because The Tattooist could have been quite the horror film. It's clear that the script and budget are factors for the mixed results of this horror film. The ideas presented on-screen fall flat due to a mediocre script, and the ideas, though elaborate don't flourish. The film could have been much better than it is and with this type of story, it could have one awesome horror film. Unfortunately The Tattooist ends up being a dud and never fulfill its potential. The film, as I've has an elaborate and interesting plot, but halfway through the film, you realize that the film is going nowhere. The Tattooist might have been an elaborate film, but the execution is very poor and the performances by the cast are questionable. Overall this is a mediocre horror film that doesn't really satisfy the need for good terror.
Culturally interesting, but ridiculously plotted. The spiritual tattooing is believable in a mystical way, but was pushed way over the top, poorly acted byt the main character and I failed to see which kind of audience the film was aimed at.
Lady D'arbanville
Super Reviewer
The Tattooist Quotes
There are no approved quotes yet for this movie.