Taxi to the Dark Side
(2007)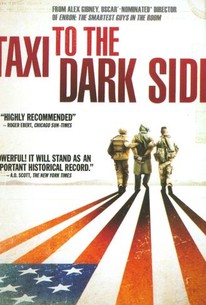 Taxi to the Dark Side Photos
Movie Info
A stunning inquiry into the suspicious death of an Afghani taxi driver at Bagram air base in 2002, the film is a fastidiously assembled, uncommonly well-researched examination of how an innocent civilian was apprehended, imprisoned, tortured, and ultimately murdered by the greatest democracy on earth. Intermingling documents and records of the incident with candid testimony from eyewitnesses and participants, the film uncovers an inescapable link between the tragic incidents that unfolded in Bagram and the policies made at the very highest level of the United States government in Washington, D.C. Combining the cool detachment of a forensic expert with the heated indignation of a proud American who holds his country to a high standard, Gibney's film reveals how the Bush administration has systematically betrayed the very ideals it professes to uphold.
News & Interviews for Taxi to the Dark Side
Critic Reviews for Taxi to the Dark Side
Audience Reviews for Taxi to the Dark Side
½
"In 2002, a young cab driver picked up a few passengers near his home in Afghanistan... He never returned." An in-depth look at the torture practices of the United States in Afghanistan, Iraq and Guantanamo Bay, focusing on an innocent taxi driver in Afghanistan who was tortured and killed in 2002.
REVIEW
Too few have heard of Dilawar. Those who have will probably never forget him. Alex Gibney certainly will not. His latest film starts and ends with this poor innocent taxi driver who, in 2002, was taken to the Bagram airbase in Afghanistan. Five days later, he was dead. Dilawar's death was the spark which ultimately led to the international awareness of what the Bush administration was doing to its detainees in the war on terror. Gibney's film, however, decides to look up the tree, not down, to discover who was really responsible for these unpleasant developments. Gibney's film is bolstered by frank and interesting interviews with some of the troops on the ground. Their remorse is clear, as is their disgust. And disgust is the right word. This is, by no means, an easy watch. The use of the appalling footage which has been generated by the recent conflicts is necessary because, if anyone is in any doubt about how morally reprehensible these tactics are, this film will make it abundantly clear. However, this film's real strength is the structure of its attack on the tactics that are employed. Gibney demonstrates that the tactics used are hopelessly inadequate and never yield effective information. There is a cutting and brilliant comparison with the old techniques and the new where an interviewee, a former FBI interrogator, uses his old tools of interrogation ? words ? and you can feel yourself being persuaded. This is not just a polemic. It is a human story and a powerful and well-constructed argument. It should be essential viewing as what has happened at Guantanamo, Bagram and Abu Ghraib should never be forgotten. This is excellent, important film-making.
Lorenzo von Matterhorn
Super Reviewer
½
Persuasive film about military conduct and the ideologies that led to the torturing and eventual death of one man in particular, and how his story is a microcosm for what led to the Abu Ghraib scandal. Powerful material, to be sure, and the one man's tragic tale is affecting, but at the same time the film often feels one sided in it's presentation. For all the sanctimonious attitude, it never really offers up suggested solutions or alternatives for these complex problems. Nor does it differentiate between innocent prisoners and the guilty ones. By the end of the film, I felt there was no way of avoiding this scenario in the future. Cheery thought from any angle.
Possibly one of the best documentaries that I've seen in a long while. well researched and not biased in anyway....and will leave you feeling a little pissed at what the Bush administration allowed to happen. More to follow soon....
Sarah Gaish
Super Reviewer
Taxi to the Dark Side Quotes
There are no approved quotes yet for this movie.