Terror Trap
(2010)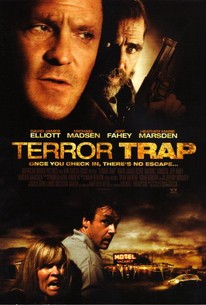 AUDIENCE SCORE
Critic Consensus: No consensus yet.
Movie Info
A young couple checks into a remote Louisiana motel, and realizes they may never check out in this nightmarish shocker featuring Michael Madsen and Jeff Fahey. Don (David James Elliot) and Nancy (Heather Marsden) are traveling down a lonely stretch of road late one night when a car appears out of the darkness, and crashes right into them. Stranded, they phone the local police for help, and the Sheriff (Fahey) directs them to a nearby motel where they can stay overnight, until the local repair shop opens the following morning. Unfortunately for the weary couple, their nightmare has only just begun. The owner of the motel is a man named Carter (Madsen) who makes his living on blood money, and controls everything that goes on in the backwoods town. It was no coincidence that the Sheriff brought Don and Nancy to Carter's hotel, because that's where the locals go to get their sick thrills. Soon after the young couple checks in, they come under attack from a gang of brutal killers who slaughter stranded travelers for fun. Now, if Don and Nancy can make it to the parking lot, they can simply drive away. But no one before them has ever made it out alive, and the closer it gets to dawn, the more it begins to look as they won't be the first to break the bloody tradition. ~ Jason Buchanan, Rovi
Critic Reviews for Terror Trap
There are no critic reviews yet for Terror Trap. Keep checking Rotten Tomatoes for updates!
Audience Reviews for Terror Trap
Terror Trap (Dan Garcia, 2010) It seems The Asylum is not the only company dabbling in the mockbuster business these days. Most Wanted Films, the company behind Lockjaw: Rise of the Kulev Serpent, bankrolled this horrible knockoff of Vacancy so similar I'm surprised writer/director Dan Garcia didn't get sued. (I suspect there's a cadre of Hollywood lawyers who have it down to a science how many scenes have to be different in order to stop studio A from suing studio B for plagiarism, and this movie is right on the border.) The only thing that marginally redeems this flick is the interplay between Michael Madsen and Jeff Fahey, of which there is far too little here to redeem this in any way. If you've seen Vacancy, which wasn't all that great in the first place, you don't need to bother with this-and if you haven't, that is certainly preferable to this. 1/2
Robert Beveridge
½
People are being attacked in the beginning of the movie by some goofy hippy cop with chewing tobacco. Rather dark and cynical. Took a long time to do anything. Mostly anticipation. Can't say the acting was bad. And when the scenes did come it was so gross and perverted I couldn't take my eyes away. It started to turn out pretty good. A Snuff film gone bad.
Charlie Goodrich
Hostel meets Vacancy in this cheap little knock-off. A couple's car is run off the road and a creepy town sheriff leaves them at a motel. This motel is actually a place where snuff videos are made and people come and sit and watch horrific acts being performed on the unsuspecting visitors. The film doesn't bog itself down with satire concerning business and violence, though it is mentioned. The big problem is that the horrible acts start in the middle of an argument between the protagonists. This means we're never truly on their side, though their actions do go some-ways to expressing their feelings for each other. Madsen just sits in a room for an easy cheque and Fahey overdoes creepy without ever being threatening. He just shouts. It isn't completely awful, but it's never scary or tense. However, the end is completely head scratching as it contains a scene that just doesn't add up to anything.
Luke Baldock
Super Reviewer
Terror Trap Quotes
There are no approved quotes yet for this movie.
Discussion Forum
Discuss Terror Trap on our Movie forum!