The Killing of Satan
(1986)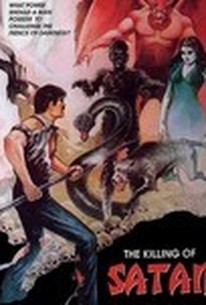 AUDIENCE SCORE
Critic Consensus: No consensus yet.
The Killing of Satan Photos
Movie Info
In this Filipino-made supernatural tale, a man is chosen by his dead uncle to battle the forces of evil. He fights a being called "The Prince of Magic," who shoots rays from his hands, makes heads spin around and hypnotizes people. He finally faces Satan himself and engages him in a battle of magic. ~ Brian Gusse, Rovi
Rating:
NR
Genre:
, ,
Directed By:
Written By:
On DVD:
Runtime:
Critic Reviews for The Killing of Satan
There are no critic reviews yet for The Killing of Satan. Keep checking Rotten Tomatoes for updates!
Audience Reviews for The Killing of Satan
In 1983 there was more than one Lando. There was Lando Calrissian and LANDO SAN MIGUEL! This dude's rise from layman to magic wielding bad ass is unrivaled in cinema history. What starts off as a series of unfortunate events ultimately leads to an epic battle of good vs. evil. Just what the hell is this movie? That question is not as easy to answer as you might think. It's about a guy named Lando, who dies, but he doesn't, but he does. Then when he's not dead anymore he goes on a quest to his uncle's house but when he gets there is uncle is dead from the same wound he suffered. Then, as fate would have it, Lando has been enriched with his uncle's magical powers! He soon discovers that he has the power to heal the lame, stop bullets, and shoot balls of energy at people. Not bad eh? So taking those things into account I guess this movie falls under the 80's Filipino adventure horror fantasy genre. From there things take an unexpected turn as Lando's daughter is taken from the village. With the help of his friend he goes on a quest to find the Prince of Magic who took her. And just when you think it can't get any weirder we find out that the Prince of Magic is in cahoots with none other that Satan himself! What possible chance does Lando have against the Prince of Darkness who is as old as time? Apparently a pretty good chance indeed. An old seer gives Lando an "I win the game staff" and he proceeds to use it for that purpose. What's funny is that even thought all Lando has to do is use the staff to succeed he somehow bumbles that one assignment on numerous occasions. In the end Lando proves that good looks, an extremely powerful staff, and a brazen mustache are all that is required to defeat Satan and save your family from certain doom. Why is this movie so good? It's very eccentric. Things happen out of no where, seemingly without cause, which is great! You can never tell what is going to happen next. The English dub of this movie features the services of people who definitely cannot claim English as their first language. This leads to mispronounced words and enough iambic pentameter shenanigans to start a rock slide. I was also immediately won over by the amateurish special effects that are nothing short of charming. The sound effects are straight out of kids shows from the 1960's which only adds to the experience in my opinion. I could go on for days but I'll leave some room for you to form an opinion about your favorite aspects as well. Why didn't I give this movie a higher score if I liked it so much? From a standpoint of technical achievement it's a disaster. Certain portions of this movie plod along and with the lack of a consistent score I found that many scenes come across as stale and lifeless. I felt that the final cut was too long. I don't know what they should've cut out exactly but perhaps they just should've found ways to shorten the majority of the scenes. While disappointing, the combined effect of these shortcomings is not enough to ruin the charm or the magic that this movie exudes. IT'S CALLED THE KILLING OF SATAN! My favorite quote from this movie is as follows. Henchman - "Lando! If you don't come out we're gonna shoot up your house full of holes." What did I learn from watching The Killing of Satan? 1. In 1983, Chow Yun-Fat had a Filipino doppelganger. 2. You can pass your magical powers on to your nephew. 3. There is a character named uncle Ben. (insert 1 million rice ads here) 4. This is yet another movie where the camera can't focus on a guy because he's wearing a shirt with lots of small lines. It's like you're looking at a stereogram. 5. Black neck ribbons are a symbol of power. 6. Hell hath no fury like a woman's scorn. I always thought it was just an expression. 7. Satan can change form and shape as long as it fits one of the stereotypical devil outfits you can buy at the store. 8. Underwater mummies can spontaneously attack but pose no real threat because they quickly lose interest. 9. Mute boys know everything. 10. If you ever get shot call your uncle because he may be feeling it too. Should you watch this movie? Without a doubt. Everyone has to experience this at least once. It's pretty unforgettable.
Kurt Astbury
The Killing of Satan Quotes
There are no approved quotes yet for this movie.