The King
(2006)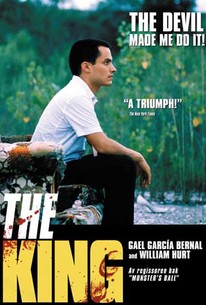 TOMATOMETER
AUDIENCE SCORE
Critic Consensus: This disturbing film about the past coming back demanding its due evokes classical tragedy, but is ultimately too heavy-handed.
Movie Info
A young man exacts a thorough revenge against the father who abandoned him in this independent drama. Elvis (Gael García Bernal) is a young man in his early twenties who, after finishing a hitch in the Navy, learns that his biological father was Pastor David Sandow (William Hurt), a man of the cloth who has never taken responsibility for siring a child out of wedlock. Elvis travels to Corpus Christi, TX, to confront Sandow about his past; the pastor asks Elvis to let him break the news to his wife and children himself, and assures the young man he wants to stay in contact with him. Elvis, however, prefers to handle matters in his own way. First Elvis sets his sights on Malerie (Pell James), the pastor's teenage daughter, and after winning her trust, takes the girl's virginity. Malerie soon discovers she's pregnant, and after her older brother Paul (Paul Dano) sees Elvis slipping out of the house following a liason with the girl, he confronts the seducer and is stabbed and killed. Elvis manages to cover his tracks cleanly enough that no one is certain Paul is dead. Next, Elvis goes to great lengths to ingratiate himself with Sandow, and despite the objections of his wife (Laura Harring), the pastor eventually invites the man who killed his son and violated his daughter to live under the same roof with his family. The King was the first dramatic feature from director James Marsh, who previously distinguished himself in documentaries. ~ Mark Deming, Rovi
Critic Reviews for The King
Audience Reviews for The King
½
Some spoilers ahead.
Constantly testing the limits of plausibility, The King largely succeeds due to the strength of the acting and subtle, low-key direction. Gael Garcia Bernal shows exceptionally little emotion - he is cold and vicious, although it's hard to know if he's being deliberately calculating, or if he's just unhinged, or (most probably) a combination. Pell James is especially brilliant in the most difficult to believe role. Her reaction when Elvis tells her about Paul is so convincingly played that it's almost possible to overlook how much it actually stretches credibility. The very difficult to watch sermon at the end of the film demonstrates Pell James' skill with body language and emotion as we see her gradually realise the full extent of the truth. William Hurt also puts in a typically layered performance. In truth, this film is so melodramatic in content that it would be impossible to take seriously were it not so understatedly played and filmed. A very interesting film.
"We're going to hell."
Daniel Parsons
Super Reviewer
½
Somehow against all odds The King is dark yet somehow fulfilling. Bernal is terrific in a role where he hides who he really is. His actions seem to come off with no malicious intent despite the obvious destruction they could cause. It makes for an extremely creepy and twisted protagonist. This isn't someone who lurks in the shadows or gives you the evil eye from a distance, no twiddling of mustaches either. The revenge aspect is handled brilliantly to the point where it doesn't feel like a revenge film. It starts off with very gritty hand held camera work but as the film progresses to a more suburban local the camera settles and bright greens make it look like a pleasant world. This is also the time that religious aspects enter the film. Hurt has created an eden and left his past sins behind him but Bernal is a snake. The final integration of the King into the family environment is heartbreaking on all accounts as the metaphorical wrecking ball is just off in the distance. It's excellent stuff and crafted with care and passion without ever being heavy handed or inaccessible.
Luke Baldock
Super Reviewer
½
Interesting, but the dialogue seems somewhat clunky in places to me. Perhaps that's due to the upbringing of the characters, but I'm not sure. The cinematography and music are beautiful, but I don't think I like the film. It's a good film, I just don't engage with it very well. Still, what a way to conduct revenge.
The King Quotes
There are no approved quotes yet for this movie.
Discussion Forum
Discuss The King on our Movie forum!