The Ages of Love
(2011)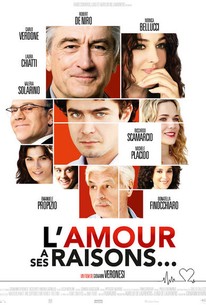 AUDIENCE SCORE
Critic Consensus: No consensus yet.
Movie Info
As directed by Giovanni Veronesi, this tripartite omnibus film gently reflects on varieties of love, as manifest at different stages of life. The first installment, titled "Youth," co-stars Laura Chiatti and Riccardo Scamarcio in the tale of Roberto, a hotshot young lawyer engaged to be married to Sara, a woman he loves dearly. During an expropriation of assets, however, he meets and falls hard for the Tuscan beauty Micol - which complicates his life to an immeasurable degree. The second installment, "Maturity," features Donatella Finocchiaro and Carlo Verdone in the story of an anchorman-cum-hurband who gets in way over his head with a femme fatale whom he encouters at a party. Finally, the third installment, "The Age of Reason," stars the legendary Robert De Niro as Adrian, an American art history instructor who moves to Rome and develops feelings for Viola (Monica Bellucci), the daughter of his building's concierge.
Critic Reviews for The Ages of Love
Audience Reviews for The Ages of Love
½
The latest instalment of the franchise produced by Aurelio De Laurentiis has some heavy weights acting names in it. The two previous "Manual of Love" films opened in 2005 and 2007 and scored a combined $45 million at the Italian box offices. I don't know the financial details of the last one but it likely did even better thanks to Robert De Niro, whose role is partly spoken in Italian, and plays a divorced American professor living in Rome in one of the "chapters" of "Manual of Love 3." All three films have been directed by Giovanni Veronesi. I think that Manual 3 made it to the US, unlike the other two, maybe because of the striptease scene between De Niro and Monica, who plays the love interest of Robert De Niro's character. The politically-incorrect humour, lots of corny plots, enjoyable nonsensical results - it is all there - in a film that critics love to hate and audiences love to love. The stories are mostly set in Rome, divided by age group: In the first part, "Youth," Roberto (Riccardo Scamarcio) tells us he has only two dreams: to become a hotshot lawyer and marry his true love and fiancée, Sara (Valeria Solarino); in "Maturity," an arrogant newscaster (Carlo Verdone), who's been happily married for 25 years, has a fling with a woman (Donatella Finocchiaro) who turns out to be a stalker and ruins his life; and in "Beyond," the third segment, is De Niro surprised to find himself falling in love once again so late in life - it helps to know that the object of his affections is Monica Bellucci, who plays his doorman's (Michele Placido) stripper daughter. Lightweight movie with heavyweight cast (Robert De Niro, Monica Bellucci, Carlo Verdone, Riccardo Scamarcio, Michele Placido, Laura Chiatti, Donatella Finocchiaro, Valeria Solarino, Emanuele Propizio) - not a bad combination if you don't mind some cheap shots and foul language.
The Ages of Love Quotes
There are no approved quotes yet for this movie.