The Freebie
(2010)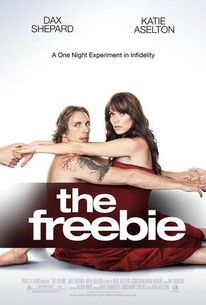 Movie Info
A couple hatches a highly dubious scheme to put the spark back in their marriage in this independent comedy drama. Annie (Katie Aselton) and Darren (Dax Shepard) have been married for seven years, and they love each other as much as the day they were wed; they're affectionate, have fun together, and enjoy games such as crossword puzzle races. They would seem to have a perfect relationship, except for one thing -- they haven't had sex in ages, and seem to have lost all interest in making love with one another, no matter how they try to put each other in the mood. Hoping to put some adventure back into their lives, Annie and Darren come up with an unusual idea -- they each get one night in which they're free to find someone and have sex with them, scot-free. But is this going to help their relationship, or is it just going to turn a small problem into a big problem? The Freebie was the first directorial assignment for actress Katie Aselton, who also plays Annie (and is married to another actor and filmmaker, Mark Duplass); the film was an official selection at the 2010 Sundance Film Festival.
News & Interviews for The Freebie
Critic Reviews for The Freebie
Audience Reviews for The Freebie
½
After a dinner party, Annie(Katie Aselton, who also directed) and Darren(Dax Shepard) are inspired by a newly single friend to talk about hypothetical sex partners. It's not until their nightly crossword puzzles that the potential becomes increasingly real and they even start to hash out the details of a mutual one night stand. As a promising directorial debut, "The Freebie" is a bracingly honest look at relationships.(Even at one point when he is obviously lying, Darren is also telling the truth.) The central question is whether a relationship can survive without sex? And I know cynics and "The Object of My Affection" point out that all marriages devolve into friendships, but does that really have to be the case in Darren and Annie? Although as inferred later, this is only the sympton of a much larger ingredient that is missing from their marriage. Thankfully, this movie does not overstay its welcome in trying to find those answers, as it eventually develops a nonsequential structure starting with Annie's walk of shame.
"A One Night Experiment in Infidelity" A young couple decides to give each other a night off, no questions asked.
REVIEW
What The Freebie is is naturalistic drama done right. The story is simple: a happy couple decide to "fix" their bedroom apathy by taking a single night to go out and share some bone with a stranger. Both Katie Aselton and Shepard are fantastic, both as lovers and as people going through a mighty big challenge together. Much of the dialogue in the first two acts plays through in a way that makes you wish it was your relationship - the two leads seeming so uniquely happy together at times that you get the feeling that Aselton took from her personal life for the script. Things change a bit in the third act, as they should. Things get, well, heavy. Knowing that the writer/director, Aselton, is married to actor/writer/director Mark Duplass, I half expected the film to have a Mumblecore vibe. Not really the case. The cinematography is solid, if simple, the picture always looking big and bright and, at times, quite stylized. And sure, the writing and acting are great, but it's the combination of clever editing and the believable bond between the two leads that really make this thing work.
Lorenzo von Matterhorn
Super Reviewer
½
It's not the movie you expect. I mention that as a positive. I went into this movie expecting something light and silly, but it was quite the opposite. The treatment of the subject matter was handled with a lot of realism and honesty. It was surprisingly anti-fairytale, highly untidy, and extremely raw in true indie film fashion.
The Freebie Quotes
| | |
| --- | --- |
| Darren: | I has been a little while since... When was the last time that we... |
| Annie: | Um... |
| Darren: | After Riches... after Riches party? |
| Annie: | I don't think we actually had sex then, I think we talked about having sex. |
| | |
| --- | --- |
| Lea: | So yeah, let's talk about it. The fact that Will's not here, and I know you guys liked Will. And I love him, still, but it was a long time coming, and it's over, and this time it's for real. Last night I finally did it. I finally was honest, and I'm sad, and it was hard, and it's been a hard time. But now it's done. And now I get to go and be myself. I'm excited to be me, I'm exited to be me without Will. I'm excited to live alone. I'm excited to have my own food in the refrigerator. I'm exited to come home and not know what the fuck I'm going to do that night... |
Discussion Forum
Discuss The Freebie on our Movie forum!