The Heineken Kidnapping (De Heineken ontvoering)
(2011)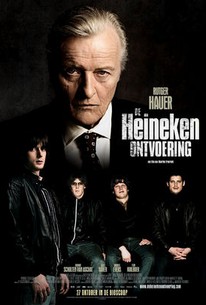 AUDIENCE SCORE
Critic Consensus: No consensus yet.
The Heineken Kidnapping (De Heineken ontvoering) Videos
The Heineken Kidnapping (De Heineken ontvoering) Photos
Movie Info
Set in 1983, this Dutch crime thriller from director Maarten Treurniet dramatizes events surrounding the notorious kidnapping of beer mogul Alfred Heineken (here played by Rutger Hauer). When several hotheaded criminals with a serious grudge against the wealthy entrepreneur decide to abduct him with a demand for 35 million Dutch guilders, a vicious power struggle ensues, followed by Heineken's revenge against the perpetrators. ~ Nathan Southern, Rovi
Rating:
NR
Genre:
,
Directed By:
Written By:
On DVD:
Runtime:
Critic Reviews for The Heineken Kidnapping (De Heineken ontvoering)
There are no critic reviews yet for The Heineken Kidnapping (De Heineken ontvoering). Keep checking Rotten Tomatoes for updates!
Audience Reviews for The Heineken Kidnapping (De Heineken ontvoering)
Based on a true story, beer tycoon Freddy Heineken, one of the richest men in Netherlands, and his driver Ab Doderer were kidnapped in 1983 and released on a ransom of 35 million Dutch guilders (about 16 million Euros). The 4 kidnappers were eventually caught and served prison terms. The fictionalised account of the events revealed how Heineken took revenge on his 4 kidnappers. A thriller worth watching. Good to see Rutger Hauer (of Blade Runner fame) on screen again!
Chrisanne Chin
Super Reviewer
The Heineken Kidnapping is a gripping crime drama. While it is just another movie that is based on actual events, the people behind the movie have at least enough respect for audiences to note before the movie, that itâ(TM)s a fictionalized take on the story. Evan as a fictionalized take on the actual kidnapping, it manages to hold audiencesâ(TM) attention through the course of its two hour run time. Many different factors went into make this an interesting watch, even thought it was largely presented in a foreign language. One of those factors was the story itself. Stories have been told so many times before this one about someone being held against their will. The first flick that comes to mind is Saw (and its subsequent sequels). There are countless others. But what separates those movies from this one is that minus the sledgehammer to the knees and other bloodshed, itâ(TM)s more closely akin to Stephen Kingâ(TM)s Misery than any other those other bloody, gory horror flicks. Itâ(TM)s a suspense thriller that will make audiences want to find out if Heineken and his driver are ever rescued, and how theyâ(TM)d get out of their captivity. Rutger Hauerâ(TM)s take on the famed beer magnate is entirely believable. Audiences can really grasp through his acting, Heinekenâ(TM)s struggle to survive both physically and mentally during his captivity. Hauerâ(TM)s performance is just as gripping after he is finally released as he goes after the criminals who kidnapped him. He expertly uses simple aspects such as facial gestures and voice tonality to really capture the impact of what his character had been through in being held prisoner. His determination to bring the criminals to justice make the final sequence in which he closes the noose on the criminals makes what would have otherwise been a boring unnecessary addition to the story just as gripping as his own fight for survival. As much as The Heineken Kidnapping is a wonderfully psychologically gripping story, it isnâ(TM)t without its faults. Much of the movie is presented in what is supposedly Dutch. Yet at times, the characters switch over to English. Given itâ(TM)s an indie flick. But if the characters can speak in English, why present it with English subtitles? Why not just present the entire movie in English? Ok, it was perhaps aimed mainly at foreign audiences. If thatâ(TM)s the case, then it should have been presented wholly in foreign, rather than have the characters switch between languages. The issue with the language barrier wasnâ(TM)t the only downfall to the movie. Its whole story was gripping. But the storyâ(TM)s end leaves one feeling rather deflated. It comes across as being somewhat anti-climactic. The ending wontâ(TM) be revealed for the sake of those who havenâ(TM)t yet seen the movie. But for all the build up in the final hunt for the criminals, the storyâ(TM)s closing scene doesnâ(TM)t live up to everything built through the course of the story. The language barrier and the final scene are problems with The Heineken Kidnapping. But they are the only problems. So much more positive can be said of this story. From the expert acting of Rutger Hauer to the general storytelling and the cinematography, it is an impressive effort from writer/director Maarten Treurniet and co-writer Kees van Beijnum. Itâ(TM)s a good story for any one that is a fan of crime dramas. It proves that a movie can be thrilling and gripping without being flooded with bloodshed. So to Treurniet and van Beijnum, kudos for avoiding that thriller clichà (C) and offering audiences a story thatâ(TM)s still a success on its own.
Philip S
The Heineken Kidnapping (De Heineken ontvoering) Quotes
There are no approved quotes yet for this movie.
Discussion Forum
Discuss The Heineken Kidnapping (De Heineken ontvoering) on our Movie forum!