The Sacrament
(2014)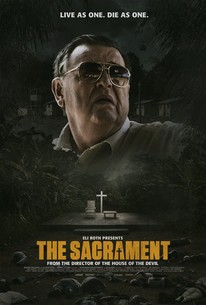 TOMATOMETER
AUDIENCE SCORE
Critic Consensus: While it may be a bit too slow for some, The Sacrament offers enough tense atmosphere and intriguing ideas to satisfy discerning horror buffs.
Movie Info
From acclaimed writer/director Ti West (The House of the Devil) and master of horror Eli Roth (Hostel), THE SACRAMENT follows two journalists as they set out to document their friend's journey to find his missing sister. They travel to "Eden Parish," a self-sustained utopia. At the center of this small, religious, socialist community is a mysterious leader known only as "Father." As their friend reunites with his sister, it becomes apparent to the newcomers that this paradise may not be as it seems. What started as just another documentary shoot soon becomes a race to escape with their lives.(c) Magnolia
People Who Like this movie also like
News & Interviews for The Sacrament
Critic Reviews for The Sacrament
Audience Reviews for The Sacrament
½
A more sensitive man than I would probably have been offended enough to write The Sacrament off entirely. Personally, I'm not one for judging art from a moral point of view, I think it's easy to separate myself from watching films through that lens. But even I was a little ticked off by Ti West's microcosm retelling of the Jonestown Massacre. Not for the completely reasonable explanation of profiting from an actual tragedy, honestly that sort of thing never really phased me. No, what bothered me was that he pretended it wasn't inspired by the Peoples Temple. Is that something I should let negatively influence my opinion on the movie? I don't know, it seems pretty classless, but I don't think I should. Thankfully, the point's moot because I really didn't care for The Sacrament at all. My distain for modern situation with Found Footage Horror is (no pun intended) well documented. I'm just generally turned off by the whole thing. Here, Ti West manages to take that distain up to another level. Constantly throughout the course of The Sacrament, there are scenarios which make absolutely zero sense from a found-footage standpoint. Decisions are made to have a score in the more intense scenes, as well as shooting from more angles than they have cameras, or to keep the audio running at pace, while the cameras jump from place to place. The end result of this means that we don't have a Found Footage Horror (which typically would be bad enough) but instead we are treated to a regularly-filmed movie, except that the camera is poor quality, constantly shakes, and actors constantly look straight into the lens, removing any suspension of disbelief you could possibly hope to garner from The Sacrament. The people involved with the film have all been pretty hit and miss in the past. And even contained within The Sacrament, the actors themselves are hit and miss. Arguably more hit, but unfortunately the misses are at the times when it matters most. There's some cringe-worthy bad reactions in the climax of the movie, especially from the leads. The Sacrament is not enthralling, and I personally, was very disappointed, even separating myself completely from the Jonestown Issue. 23% -Gimly
½
Ti West is usually a competent director but he shows in this sloppy and horribly edited movie that he doesn't seem to understand at all how the found footage device should be used, as he even forces the characters to carry a camera up and down in the most ludicrous of situations.
Carlos Magalhães
Super Reviewer
½
This is a disturbing movie, which for fans of edgy filmmaking, makes it a very interesting movie. It is not really a horror film. It should really say "Based on a true story," the story being the Jonestown massacre of 1978. But its a fictional yarn loosely based on the real life events. It was intriguing enough to make me look Jonestown on Wikipedia (for the record, the actual massacre was way worse than what happens in this movie). There are a lot of Ti West fans out there, some of my favorite critics included. Unfortunately his style is a bit slow for my taste (and that is not a criticism of his work ... I am just not a fan of "slow-burn" movies. ADHD maybe?). It is another found footage "docudrama," but thankfully doesn't stick strictly to found footage rules. As such, there is no shaky camera and things happening off-screen. SPOILERS FOLLOW: If you want to get a sense of what it was like when the adults and children (including babies) were given cyanide-laced Kool Aid, you won't be disappointed. Not-a-fun-fact: this is where the "drinking the Kool Aid" phrase originated, which I found out for the first time reading up on the actual circumstance of the tragedy. The sense of foreboding and solid acting keeps this slow-burn very entertaining indeed.
Mark Beckford
Super Reviewer