The Temptation of St. Tony (Püha Tõnu kiusamine)
(2010)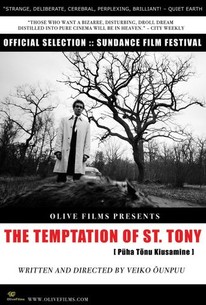 The Temptation of St. Tony (Püha Tõnu kiusamine) Photos
Movie Info
A seemingly normal man is drawn into a life where nothing makes sense in this offbeat comedy from Estonian filmmaker Veiko Õunpuu. Tony (Taavi Eelmaa) is an ordinary white-collar office drone whose world is becoming increasingly bizarre. His wife (Ravshana Kurkova) is increasingly angry and disinterested in him, his teenage daughter doesn't pay attention to him, his father's funeral turned into a spectacle when a massive auto wreck interrupted the procession, and his employers have become ruthless to the point of incoherence. When Tony helps an attractive young woman (Ravshana Kurkova) who is being harassed by police, she becomes a frequent presence in his life until she's abducted, leading Tony into a netherworld of surreal violence and criminal behavior that could pass for performance art. Püha Tõnu Kiusamine (aka The Temptation of St. Tony) received its North American premiere as an official selection at the 2010 Sundance Film Festival.
Critic Reviews for The Temptation of St. Tony (Püha Tõnu kiusamine)
Audience Reviews for The Temptation of St. Tony (Püha Tõnu kiusamine)
What a malicious and illuminating journey to the depths of hellish beauty! That's a paradox alright but how can you explain Õunpuu's essay on the culmination of ideals, of anticipations and of obsolete dreams in any different way? A higher quality film than any Tarr of the 2000's and by applying a semi-Lynch universe in the black and white disturbance, I don't think anyone would really care that the plot's vignettes are over-represented and the abruptness of things defies the superlative characters. It's what it is and subjective interpretation is required when you're dealing with Estonian landscapes. After all, we're all gonna die at some point, poor Tõnu simply happened to preserve a slice of cynicism more than the rest of us.
Dimitris Springer
Super Reviewer
Enthrallingly surreal, avant garde meditation on the essence of goodness about a mid-level executive whose grip on reality begins to fade as he becomes the subject of a series of bizarre occurrences, is a unique mind bender. With its haunting dream sequences and beautiful black and white cinematography, it feels like a cross between the work of David Lynch and Guy Maddin.
Matthew Lucas
Super Reviewer
The Temptation of St. Tony (Püha Tõnu kiusamine) Quotes
There are no approved quotes yet for this movie.