The Theatre Bizarre
(2012)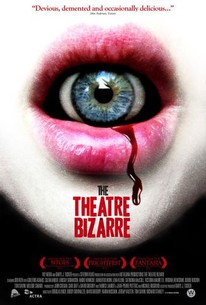 The Theatre Bizarre Videos
The Theatre Bizarre Photos
Movie Info
Down a seedy city street, a young woman is obsessed with what appears to be a long abandoned theatre. One night, she sees the front door slightly ajar and impulsively decides to sneak inside. But there in the vast, eerie auditorium, a show unlike any other unfolds before her eyes. Its host is an odd marionette-like man who will introduce her to six tales of the truly bizarre: A couple traveling in a remote part of the French Pyrenees crosses paths with a lustful witch; A paranoid lover faces the wrath of a partner who has been pushed to her limit; The Freudian dreams of an unfaithful husband blur the lines between fantasy and reality; The horrors of the real world are interpreted through the mind of a child; A woman addicted to other people's memories gets her fix through the fluid of her victims' eyeballs; And a perverse obsession with sweets turns sour for a couple in too deep. But as the stories unfold, something strange is happening to the woman. Something irreversible and horrific. -- (C) W2
Rating:
NR
Genre:
Directed By:
Written By:
In Theaters:
On DVD:
Runtime:
Studio:
Critic Reviews for The Theatre Bizarre
Audience Reviews for The Theatre Bizarre
½
This was a rather classy horror anthology featuring some fairly big names in the indie horror field both in front of and behind the camera, and I'm happy to have finally given it a spin for my Halloween 2014 viewing. Well worth tracking down.
Bill Bryant
½
An engaging horror anthology film that brings together some of the most daring film directors today; A young woman wanders inside a old, decrepit theatre where a bizarre puppet hosts six acts of the dark, grotesque, and sexually perverse.
MARS Del Toro
One line summary: Five of the six shorts were good in this horror anthology. -------------------------------------- This is an anthology. Theatre Guignol: The overarching segment. A young obsessed sleepless woman goes across the street in the dead of night and goes into a theatre lightly populated with life sized puppets. The puppets introduce her to the following six stories. The Mother Of Toads: Set in Mirepoix which is near the Pyrenees in southern France. A young couple takes pictures of wood carvings of pagan gods. The woman wants a pair of earrings, which depict an image from HP Lovecraft's works. The vendor claims to have a true copy of the Necronomicon at another site. They drive there; Katrina goes to a nearby spa while Martin talks to the vendor, samples the local (drugged) wine, and leafs through the book. Katrina's return is not a happy one. The next day, Martin has a glimpse of what he spent the night with. He goes looking for Katrina. I Love You: Set in Berlin, Germany. Axel wakes up with a bloody cut on his hand. He has no idea why. Mo shows up to get a few things before she leaves him. They talk; she's a multiple betrayer, he's a controlling idiot, she's too young for him. Did I forget lying witch? It does not end well. Wet Dreams: Donnie accidentally slugs Carla when he wakes up from a nightmare. Dr. Maurey asks him about the nightmare of a beautiful girl who coaxes him to bed, only to emasculate him with her 'Lovecraftian' vagina. The Dr. tells him a strategy for interrupting the nightmares, so Donnie tries it. It fails; instead, he dreams of the other times he's hit Carla, and of her suicide attempt. The doctor's wife Maxine and Donnie did some things together; the doctor and Carla settle scores. The Accident: Mother talks about death with her young Daughter: growing old, being in accidents, Old Yeller. Sad tale, nicely done. Vision Stains: Junkie girl shoots up in an alley. The writer uses a surgical procedure to steal the dying visions of the junkies she murders. In this short, she first murders the junkie girl, and writes up her experiences. Then she murders an old homeless woman. The writer despises men, and kills women only, because the women have suffered more and better, somehow. Right, sure, whatever your excuses are for serial murder. The writer gets quite a surprise when she injects fluid from the belly of a pregnant woman. Sweets: Estelle and Greg are a couple drowning in sweet food. Estelle created the circumstances in which they find themselves; now she rejects it. Greg's hopelessly in love, and cries a lot while trying to bargain his way out of this trap. Estelle and a new friend Antonia go to an exclusive food club and talk about moderation. The club kills Greg, guts him to general applause, then eats various parts of him raw. --------Scores-------- Cinematography: 10/10 Excellent. Sound: 9/10 Fine. Acting: 8/10 Enjoyable, by and large. Liked Udo Keir in particular. The Mother and Daughter actors in 'The Accident' were wonderful. Screenplay: 9/10 Well-made horror anthology.
Ed Collins
The Theatre Bizarre Quotes
There are no approved quotes yet for this movie.
Discussion Forum
Discuss The Theatre Bizarre on our Movie forum!