The Yankles
(2009)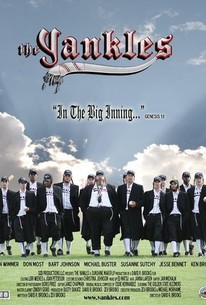 AUDIENCE SCORE
Critic Consensus: No consensus yet.
Movie Info
A man looking for a second chance at life crosses paths with a team with practically no chance at all in this comedy. Charlie Jones (Brian Wimmer) is a former major league baseball player whose alcoholism ended his career in center field and ruined his personal life after his wife left him and he ended up in prison following his third drunk driving conviction. As part of his parole, Jones has to serve nearly 200 hours of community service, and while he's eager to coach an amateur team as part of his penalty, no one seems willing to take a chance on him. However, that's before he meets Elliot (Michael Buster), an Orthodox Jew studying to be a rabbi who's trying to salvage the hapless baseball team at his yeshiva school. The team, nicknamed "The Yankles," are desperate enough to try anything, even taking on a pariah like Charlie as their new coach; Charlie soon discovers that these Orthodox theology students aren't necessarily cut out for baseball, but as he and his players et to know one another, he gives them a new measure of skill and confidence, and they help him regain the self-respect he though he'd lost forever. Also starring Bart Johnson, Don Most and Susanne Sutchy, The Yankles was the first feature film from director David R. Brooks.
Rating:
PG-13 (for language)
Genre:
, ,
Directed By:
On DVD:
Runtime:
Studio:
DZB Productions
Audience Reviews for The Yankles
½
There's a terrific sports comedy hiding inside The Yankles, a movie that is subtler, less dogmatic and better-equipped to handle its more compelling ideas.
Lee Mayo
The best kosher baseball movie out there, I love watching sports movies especially baseball ones, you can never have enough of them, and this ones totally kosher, so don't be a putz or a smuck and watch it. Ralph from Happy Days is in, flashback, is pretty good, as the dad, Donny gives his Most in this part.
mike hawke
1 strike, 1 opportunity, our protagonist (MLB legend Charlie Jones) is a professional baseball player turned convicted felon. 2 opportunistic strikes later, the protagonist looks to take a group of sporty-schmucks from a Yeshiva into the a smaller version of the College World Series. Jewish stereotypes have never been used in such a high standard of comedy as did "The Yankles" Well-rounded film buffs can link this film with the elements of the Coen Brothers' production, "A Serious Man," The worst of all possibilities were hitting both protagonists in each of these films. First, A Serious Mans' Larry Gopnick is suffering through a Book of Job tale, doing all the right things, but one wrong makes his life hectic for good. Second, "The Yankles" manager and former convict/MLB star Charlie Jones is on a mission of redemption to get back on a good morality path. The elements of Jewish values and symbolism is there, but what is different is the path-sought outcome of where each of these men end up. Without giving away any spoilers, forgiveness and laugh-screeching comedy are a win-win, but it is "The Yankles" who out-wits "A Serious Man" for on-the-spot humor. The film is just so bountiful with its magnitude of illicit-humor (by ethical standards) that it succeeded as that rare comedy in numerous film festivals around the country. A comedy that doesn't drag a film-goer's spirit out of them to get a laugh, but is just being purely honest with its situational-styled humor. See this film with someone you know (or someone familiar with Cincinnati, because they might just point out that a certain bartender looks like a chubby Pete Rose with longer hair), and your in for a fun and eventful time.
Nate Palatchi
The Yankles Quotes
There are no approved quotes yet for this movie.