Thérèse
(2013)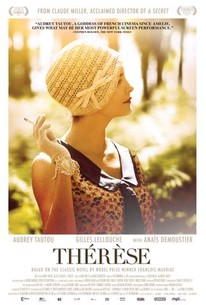 Movie Info
François Mauriac's legendary 1927 novel of French provincial life has been gloriously brought to the screen by the inestimable Claude Miller in his final film. Sumptuously photographed to capture the full beauty of the pine-forested Landes area in southwest France, THÉRÈSE DESQUEYROUX is a beautifully conceived drama of exquisite taste. Marvelously played by the luminous Audrey Tautou, Thérèse is a heroine hewn from the same stock as Madame Bovary or Anna Karenina, suffocated by her provincial marriage. Thérèse has married less for love than for convenience, but it is not long before the casual disinterestedness shown her by her arrogant husband, Bernard (Gilles Lellouche), sets her mind in motion. Life is easy at first, as Bernard's pinewood estates keep them both in the lap of luxury. But when Thérèse's best friend Anne (Anaïs Demoustier), who also happens to be Bernard's younger sister, falls madly in love with a handsome young Portuguese man, Thérèse begins to see what she has been missing in her life. Corralled by Bernard's family into persuading Anne to forego her planned nuptials, she begins to see first-hand the awesome power of passionate love, as Anne will go to any length to keep her lover by her side. Soon, Thérèse begins her own fight against the oppressive Desqueyroux family.(c) MPI Media
News & Interviews for Thérèse
Critic Reviews for Thérèse
Audience Reviews for Thérèse
This is a surprisingly unexpected and nuanced study of a woman. I had guessed the arch of the story wrong several times as it clearly does not follow the usual conventional film script. Instead of the sharp delineation of good vs. evil, crime vs. punishment, this is about cruelty and charity in unlikely places. In the end, it is still an optimistic view of human condition: we all have capacity to learn, learn to forgive and move on.
Qi Zeng
½
Hmmm, there were poor reception in general. Me too found it starts off rather flat yet corny. But the farther it goes, the more indulging it becomes. Not bad seeing a different & no more superficial, cutepie Audrey Tautou either.
WS Wu
½
Based in part (the novel is much more) on the 1927 François Mauriac novel Thérèse Desqueyroux , this film stars Audrey Tautou (Amelie) as the title character who finds herself in a marriage of convenience (they both own property and each want more) to a rather dull man (Gilles Lellouche - Mesrine) whom Thérèse accepts/tolerates until her sister-in-law and best friend, Anna (Anais Demoustier - Elles) falls passionately in love with a Portuguese man making Thérèse realize what her life is lacking. Unsure of what to do, Thérèse takes drastic action in hopes of finding the love/freedom she sees others share. The novel has much more depth to it (this film leaves out many events found in its pages) but is similar to the more well-known Madame Bovary or Anna Karenina. While I am a sucker for costume drama, I found much of this film dull -- like her marriage -- and it only picks up late into the film. It leaves much out and so the film makes it difficult to find much sympathy for any of these characters other than Anna. The landscapes are pretty and Tautou can play dowdy and dour but this isn't one I would recommend even to fellow Merchant Ivory enthusiasts. It wanted to be more.
Thomas Williams
Thérèse Quotes
There are no approved quotes yet for this movie.
Discussion Forum
Discuss Thérèse on our Movie forum!