The Damned (These Are the Damned)
(1963)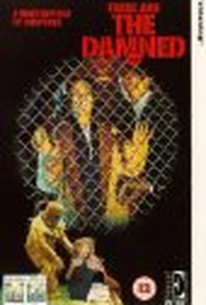 The Damned (These Are the Damned) Photos
Movie Info
Joseph Losey directed this unusual science fiction effort, which has won a small but fervent cult following. Simon Wells (MacDonald Carey) is an American visiting England, where he meets a woman named Joan (Shirley Ann Field). Simon is immediately attracted to Joan, but there's a considerable obstacle in their budding romance: Joan's brother King (Oliver Reed), the leader of a violent pack of motorcycle rockers. King has a barely concealed incestuous attachment to his sister, and he sometimes uses her to lure victims into his gang's clutches. King and his cronies attack Simon, take his money, and leave him stranded, where he's eventually found by a pair of military security men. Simon is brought to the home of Bernard (Alexander Knox), a scientist working on a secret project for the government, and his girlfriend Freya (Viveca Lindfors), a sculptor. Joan eventually tracks Simon down in hopes of winning his forgiveness, but another run-in with King causes Simon and Joan to discover a cave that holds a terrible secret: a group of strange, cold-blooded children who were the products of one of Bernard's experiments gone wrong. The children were genetically engineered to survive a nuclear war, and, as a result, they are radioactive enough to kill anyone who comes in close contact with them. Controversial in its day, The Damned was produced in England in 1961 but was not released until 1963, when Hammer Films booked it as the second-half of a double bill with Maniac. It did not reach American screens until 1965, when it was shown under the title These Are the Damned. ~ Mark Deming, Rovi
Critic Reviews for The Damned (These Are the Damned)
Audience Reviews for The Damned (These Are the Damned)
½
What a strange, strange movie. Not only because the plot takes one of the most severe right turns I've ever seen in a film, but because the ending is so casually, inescapably bleak. Personally, I found Plot #1 more compelling than Plot #2. I'd be curious to read the original story, and see how the source material balanced the strange mix of elements.
Eric Broome
Super Reviewer
a very odd film. i almost gave it up half hour in but i'm glad i stuck with it and i won't soon forget it, and not just the ridiculous 'black leather' song either. it's like a strange hybrid of a clockwork orange and children of the damned. intense performance by young oliver reed as leader of a gang of 'teddy boys' definitely brought to mind alex and his droogs. he even breaks into an artist's studio! but soon everyone is involved in a top secret government experiment...definitely interesting, just not very good
Stella Dallas
Super Reviewer
½
A street gang gets mixed up with spooky government experiments. A possible precursor of "A clockwork orange"
Pierluigi Puccini
Super Reviewer
The Damned (These Are the Damned) Quotes
There are no approved quotes yet for this movie.