Three Resurrected Drunkards (Kaette kita yopparai)
(1968)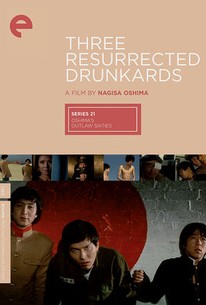 AUDIENCE SCORE
Critic Consensus: No consensus yet.
Movie Info
After students prankishly steal the clothes of two people swimming nude in the ocean, the swimmers return to land and wander around au naturel. They are assumed to be Korean illegal immigrants, and are chased and hounded. This comedy takes a rare look at Japanese racism. ~ Clarke Fountain, Rovi
Critic Reviews for Three Resurrected Drunkards (Kaette kita yopparai)
There are no critic reviews yet for Three Resurrected Drunkards (Kaette kita yopparai). Keep checking Rotten Tomatoes for updates!
Audience Reviews for Three Resurrected Drunkards (Kaette kita yopparai)
½
At first, "Three Resurrected Drunkards" seems like a Japanese answer to "Help!" or "Head." The action begins with three young guys (a real-life pop group called the Folk Crusaders) clad in matching Beatle-esque haircuts and suits. They're cavorting on an empty beach, cheerily trying to duplicate that famed Eddie Adams photograph of a gun-to-temple Vietcong execution. The soundtrack is an addictive, sped-up ditty that almost defies description. In accordance with the movie's contradictory tone, this goofy music is leavened with a dark lyric about dying in a car accident and going to Heaven where "the booze is good and the girls are pretty." The three go swimming, but as soon as they're in the water, a mysterious hand emerges from the sand amidst their clothes and swaps two of the outfits. The returning swimmers have no choice but to dress in what's available. This unlikely swap sets up a plot of mistaken identity. Two Koreans -- a high school student and an Army corporal avoiding Vietnam service -- have illegally snuck into the country, and now two of our beach boys are wearing their identifiable uniforms. It's officially "Crack Down on Stowaways" week, so the townspeople view them as criminals. The story rambles onward in surreal ways, as the boys encounter the real fugitives, a surly cigarette-seller, a cute Korean pixie and her gruff, one-eyed, one-handed husband. The girl tries to help them, but they are deported and sent to fight at the battlefront. With disastrous results. But at this halfway point, the film takes an amazing turn. First there's a semi-documentary segment with the lead actors asking city pedestrians whether they are Japanese. The repeated answer: "No, I'm Korean." Why? "Because I am." Then, incredibly, the story repeats. Yes, it just backtracks to the beginning, with the characters again frolicking on the beach. They're even aware of the loop. They use their acquired knowledge and choose different actions the second time, trying to engineer a happier outcome. Will they succeed? Just as the characters revisit their own story, "Three Resurrected Drunkards" is another Nagisa Oshima film where a second viewing helps fit the pieces together. I just wish the rest of the movie lived up to the opening's zany energy. Instead, the story ends up hammering on the Japanese people's poor treatment of Koreans -- not the most universal of themes. The acting can be amateurish -- multiple times, the actors seem to be smiling out of character, trying not to laugh -- and Oshima's recurring fixation on the Vietcong photo comes off more gimmicky than evocative. Still, the plot twists are so fresh and exciting that the film is a thrill.
Eric Broome
Super Reviewer
Three Resurrected Drunkards (Kaette kita yopparai) Quotes
There are no approved quotes yet for this movie.
Discussion Forum
Discuss Three Resurrected Drunkards (Kaette kita yopparai) on our Movie forum!