Time Out (L' Emploi du temps)
(2001)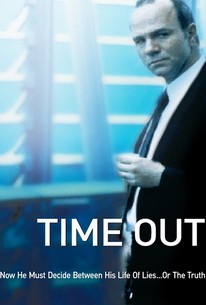 Time Out (L' Emploi du temps) Photos
Movie Info
French director Laurent Cantet's sophomore effort is a somber and complex meditation on work -- specifically, how work has become the defining feature of the contemporary individual as well as the quintessential symbol of quotidian despair. The movie tells the story of Vincent (Aurelien Recoing), a middle-class family man recently fired from his drab, middle-management job. Unable to tell his family about his firing, Vincent spends his workdays driving around the French countryside --"business trips" he tells his wife -- keeping intact the reassuring routine of going to work and coming home to his wife and kids. As his family grows suspicious of his evasive behavior, Vincent is forced to spin a new tale, pretending to get a job working for the U.N. In a bid to keep the money coming in, he recruits old friends to invest in an imaginary emerging-markets investment scheme. Vincent also falls in with Jean-Michel (Serge Livrozet), a black market dealer whose ignominious past serves as an ominous warning for Vincent's present course. Despite his efforts to maintain an undisturbed surface, Vincent's wife begins to suspect something amiss. As the lies pile up and the questions from his family mount, Vincent loses control of his fragile double life, leading to a poignant conclusion. Cantet's film premiered at the 2001 Venice Film Festival.
Critic Reviews for Time Out (L' Emploi du temps)
Audience Reviews for Time Out (L' Emploi du temps)
More than the plot, this movie works because it succeeds in creating an atmosphere of constantly being an outsider, left out from the rest of the normal world.
Sherwin Liu
A great French drama. Why do they have it listed as a documentary here? This thing isn't a damn documentary. Aurelien Recoing is fantastic as the man who seeks to hide the truth from his family as a matter of pride.
John Ballantine
Super Reviewer
The first hour of "Time Out" is the most involving portion of the film; after that, it settles into a pretty basic formula that's predictable yet still intriguing. Laurent Cantent's moody direction mixed with documentary-style camerawork and Aurelien Recoing's quiet, captivating central performance make watching the film a hauntingly effective experience. When it's all said and done, "Time Out" doesn't seem to have much of a point to it and the ending isn't as satisfying as I would have hoped for, but it's quite possibly one of the best dramatic pieces this side of the year 2000.
Stephen Earnest
Super Reviewer
Time Out (L' Emploi du temps) Quotes
There are no approved quotes yet for this movie.
Discussion Forum
Discuss Time Out (L' Emploi du temps) on our Movie forum!