Trucker
(2009)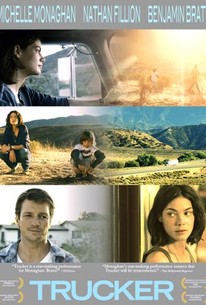 TOMATOMETER
AUDIENCE SCORE
Critic Consensus: Excellent performances by Michelle Monaghan and Nathan Fillion and keenly-observed details of small town life elevate this otherwise predictable and inconsistent melodrama.
Movie Info
Michelle Monaghan stars as a self-reliant trucker forced to take on the responsibility of caring for her 11-year-old son when his father (Benjamin Bratt) ends up in the hospital in this independent drama from Plum Pictures. James Mottern directs from his own script, with Nathan Fillion, Joey Lauren Adams, and Jimmy Bennett set to co-star. ~ Jeremy Wheeler, Rovi
People Who Like this movie also like
Critic Reviews for Trucker
Audience Reviews for Trucker
½
The only flaw of the film is that halfway through, you already know the ending. Still, by knowing, the film is so well made that it pulls you in and makes you want to stick around and await the inevitable ending. Michelle Monaghan pulls off an Oscar-Worthy performance as "Diane Ford", and the rest of the solid cast help keep this movie on it's high octane cylinders of brilliant storytelling. Trucker is a must see drama!
This film has at its core a really overused plot - the estranged young son forced to re-unite with a parent, who then, after a bumpy ride, learn to love each other. But by its gritty, low down tone, somehow the film manages to keep from becomming overy maudlin. What keeps Trucker afloat is indeed the portrayal of a female trucker and all that signifies - the yearning for independance and being your own person, beholden to no-one but yourself. This is what makes this film rise above a throwaway, as though, yes, you've seen this plot before, but never in this way. Michelle Monaghan is very solid and carries the film well and the child actor does an adequit job of portraying the bitterness and false bravado necessary of the role. But... a few things I found disconcerting. First, there's an overly long scene at the VFW with Monaghan and her neighbor dancing - ok, we get the message, now move on - no reason for a 5 minute segment showing the two having some fun - could have had the same effect in 1-2 minutes tops. Certainly a "filler" moment for me. Then there is the constant reference to Monaghan's "beauty" - including a bit of dialog about her chest. To each their own I suppose, but she's certainly not chesty and beauty is in the eye of the beholder, so it didn't do the film any favors to keep harping on it. Besides, the film would be making a much better statement if it would have allowed that Monaghan's charactor was catnip because she was such a free spirit instead of some kind of beauty queen. It would have fit the flavor of the film much, much better; I'm just saying...
paul sandberg
Super Reviewer
A good indy film, nothing more, so say it has a slow star, I say it's slow throughout. Good acting and good story line just can't go any higher the 3 staqsr
Bruce Bruce
Super Reviewer
Trucker Quotes
There are no approved quotes yet for this movie.