Twelve
(2010)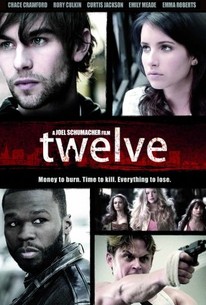 Movie Info
Twelve is the story of 17-year-old White Mike, the privileged son of a restaurant tycoon. His mother succumbed to breast cancer several years before the film begins. White Mike is a drug dealer who has taken his senior year in high school off to sell drugs to his wealthy peers. When he is not selling drugs he is reminiscing of his childhood and philosophizing about a world he feels he is not a part of. The title of the film refers to a new designer drug which the protagonist of the novel, White Mike, sells. The drug is referred to as a cross between cocaine and ecstasy.-- (C) Official Site
Critic Reviews for Twelve
Audience Reviews for Twelve
[My predicted rating: 3 This film almost has good points and could have made it as good film, perhaps if the acting was a little more gritty and parts of the plot were tidied up it would have been. In a world full of materialistic teens, the only one with a heart seems to be Drug Dealer "White Mike". In the tough world of Drug dealing, gangs etc, "White Mike" seems to flow through with no trouble from more likely dealers, meanwhile we hear lots of back stories from all the characters, which never really go anywhere, it's a bit of a "pretty film". Fans of 50 Cent, will probably be disappointed in his small role, which really doesn't mix in too well. I have to give one mention of praise though and that is to Rory Culkin, who did show some pretty decent acting skills.
Lady D'arbanville
Super Reviewer
Such a dull and boring movie. I stopped at the 10 minute mark. That narrator was killing me. His monotone voice giving me useless background information that I didn't need to know and didn't give a fuck about. Omggggg I didn't even watch it for that long, but it drove me insane. I HATE narrators in a movie; it ruins the entire thing. It was like a fucking audio book. Nothing was even happening in the movie, sure I only watched it for a few minutes, but come on. A movie shouldn't be THAT uninteresting in the first 10 minutes. What a piece of shit film.
It's like Brett Easton Ellis had a baby and threw it in a dumpster.
Drew Smith
Super Reviewer
Twelve Quotes
| | |
| --- | --- |
| Narrator: | So you're born in the capital of the world and you can never escape. And that's how it is because that's how everyone wants it to be. It is all about want. No one needs anything here. It is about when you wake up in the morning and the snow is already coming down and it's bright between the buildings where the sun falls but already dark where the shadows are. And it's all about the want. What do you want? Because if you don't want something you've got nothing. You are adrift. You're washed away and then buried under the snow in shadow. And when in the spring the snow melts, no one will remember where you were frozen and buried. And you will no longer be anywhere. |
| | |
| --- | --- |
| Narrator: | You will not be remembered if you die now. You'll be buried and mourned by a few and what more can you ask for? The world will spiral from underneath you and you are either too smart or too dumb to find God. Maybe you are angry. Only because the way out is through love. And you are just horny and lonely. |
| | |
| --- | --- |
| Sara: | I have lots of boyfriends. I mean, I'm not a slut. But, different guys are interesting for different reasons. You're interesting for a very specific reason. |
Discussion Forum
Discuss Twelve on our Movie forum!