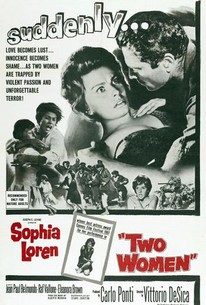 Two Women
1960, Drama, 1h 39m
8 Reviews
2,500+ Ratings
Rate And Review
Movie Info
During World War II, Italian widow Cesira (Sophia Loren) must leave Rome with her devout daughter when the city comes under attack by Allied forces. The pair flee to a small village, where they meet -- and both fall for -- the charming Michele (Jean-Paul Belmondo). But the war uproots the life of mother and daughter once again when soldiers attack the duo and subject them to sexual assault. Their bond is strained as they struggle to overcome the tragedy that changes them both forever.
Genre: Drama

Original Language: Italian

Director: Vittorio De Sica

Producer: Carlo Ponti

Writer: Vittorio De Sica

Release Date (Theaters): original

Release Date (Streaming):

Runtime:

Distributor: Embassy Pictures

Production Co: Compagnia Cinematografica Champion, Les Films Marceau, Cocinor
Audience Reviews for Two Women
De Sica's look at Rome, Italy, and the outlying regions, at the very end of WW2, is fascinating for that aspect alone, a sort of window into history. But the earthy, down-to-the-gutter performance by Sophia Loren raises the stakes considerably as a loving mother leading her oblivious daughter through dangerous straits, times, and men of war. Worthwhile.

A gripping, weighty film, with an Italian women (Sophia Loren) and her 12-year-old daughter (Eleonora Brown) fleeing Rome towards the end of WWII. Director Vittorio De Sica is incredibly balanced in what was a highly charged subject: he shows Italians who had supported the fascists and Italians who were wealthy while the peasants around them starved, but most of all, he shows Italians simply trying to survive the end of the war. We see soldiers from England, Germany, America, Russia, and Morocco at various points in the film, with the woman and her child holed up with extended family in the hills, and then later trying to make their way back to Rome. It's fascinating to see this part of the war from the Italian perspective. What happens to the mother and her child in a bombed out church (perhaps a symbolic setting) is horrifying, but while the film has these dark elements, and people living under conditions of privation at a time when those around them were being killed randomly, it doesn't crush you with its darkness. I think that comes from the incredible strength in Loren's performance, which is wonderful. She is worthy of having won an Oscar for her performance, even with other nominees that year including Audrey Hepburn (Breakfast at Tiffany's) and Natalie Wood (Splendor in the Grass). Jean-Paul Belmondo is also excellent as an intellectual professor who seems to see the greater truth in the events that had befallen Italy, and who is often at odds with the peasants around him. De Sica is undoubtedly speaking directly to viewers when he has this character say that an alternate strategy on the part of the Allies would have led to fewer civilian deaths in the cities. He's not making excuses for his country, he's simply showing the very real tragedy of war. He does this throughout the movie with all the right touches, and shows the human spirit enduring despite it all. Great film.

A mother and her daughter struggle to survive WWII in Italy. I don't have a lot to say about this film. I find it to be a film that I know I should like or at least respect, but I can't see what's so great or what's bad about it. Memorable moments like the film's ending and Sophia Loren's constantly defiant grimace are what will stay with me when I think of this film. I can tell that it's anti-war and an example of Italian cinema's neorealism, and while the film isn't inaccessible, it's not exactly common fodder either. Overall, I think I should stop writing; it's best to do so when one doesn't have anything intelligent to say.

A very powerful drama about the tough life of two women during the World War II in Italy. Stunning performance from both Sophia Loren and Eleanora Brown. Couldn't have asked for a better performance than this.
See Details