Tyler Perry's Boo 2! A Madea Halloween
(2017)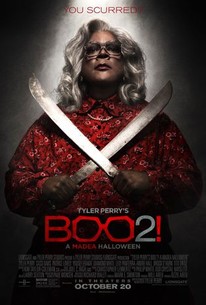 Tyler Perry's Boo 2! A Madea Halloween Videos
Tyler Perry's Boo 2! A Madea Halloween Photos
Movie Info
Madea and the gang are back for this hilarious sequel. Madea, Bam and Hattie venture to a haunted campground and the group must literally run for their lives when monsters, goblins and the bogeyman are unleashed.
News & Interviews for Tyler Perry's Boo 2! A Madea Halloween
Critic Reviews for Tyler Perry's Boo 2! A Madea Halloween
Audience Reviews for Tyler Perry's Boo 2! A Madea Halloween
½
I don't automatically hate Tyler Perry's alter ego/monstrous matriarch, Madea. I didn't even hate the first Boo film, but its sequel is exactly everything Perry's critics have accused his films of being. This is the movie everyone thinks the Madea films are. This feels like 90 minutes of vamping, where there clearly wasn't a script and Perry hoped each new scene would somehow stumble into hilarity. The premise could have worked, placing Madea in a Friday the 13th scenario, but they play it as a lesson to teach the youth about their fool ways. It's so listless and repeats itself often, stretching to fill out the running time of a feature film. It's poorly developed, poorly planned, and none of the characters matter as they sometimes change abruptly by the moment. There was clearly no plans to do a sequel for the first Madea Halloween movie, until it became the second highest-grossing film of his career. Everything about this movie smells of desperation. Everybody is just dancing around on screen, speaking in circuitous improv jags that go nowhere, and there's even an extended sequence of twerking from a famous dancer. This is a punishing movie that plays to Perry's worst instincts. Let the Boo franchise die. Nate's Grade: D
Nate Zoebl
Super Reviewer
Remember when there was just one of these Halloween flicks featuring Madea from, you know, last year? Only this time, Tyler Perry manages to make one more comeback with a film so unbearable you can't even imagine why they would still continue this series. Let's hope one day, we'll find a way to end what must be bought to an end.
EpicLadySponge the Adventurer
Super Reviewer
Tyler Perry's Boo 2! A Madea Halloween Quotes
There are no approved quotes yet for this movie.